Ever thought Saved Password Apps look a bit dull?
Saved Password Apps are used in RM Unify to provide automatic sign-in to a number of services which can't be connected via full single sign-on in RM Unify. Saved Password apps include: Moodle, Edmodo, Prezi, MyMaths, and lots more.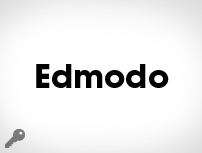 Edmodo Saved Password App
RM does not have a contractual agreement with these app providers in order to offer full single sign-on access to them in RM Unify. Hence, we do not have the rights to publish the logo of the app on its tile in the App Library. Instead, we design our own branded tile, like the one here.
The Saved Password app functionality stores each RM Unify user's credentials for the app, then posts them to the login page each time they click on the tile. This signs the user into the app automatically. A wonderfully convenient tool!
If you would like to upload your own image for a Saved Password App, to make it more appealing to your users in school, there is a way! Follow these instructions to do it:
(Please Note: This is a workaround. Some functionality will be lost if you upload your own image, including the ability for users to change their details if they change for the app).
1. Right click on the existing Saved Password app tile on your Launch Pad. Click 'copy link'.
2. Click on the 'Add tile' button on the far right hand side of your Launch Pad, or at the bottom right hand side of the RM Unify App Library. Select the option named 'Shared Tile'.
3. Once the 'create tile' form opens, paste the link you grabbed into the Address (URL) box.
4. Upload a suitable image from your computer, add a title, then add a subtitle.
5. Click 'OK'. The tile will then been created, and the link is exactly the same as for the existing saved password app.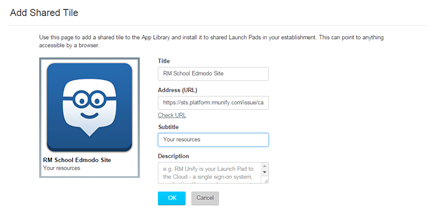 Once you have tested that this app works, we recommend uninstalling the existing Saved Password App from your Launch Pads, to prevent confusing users.