For RM Unify, April is all about School Leadership and Management. Focusing on the apps that can help support you in delivering outstanding school leadership and management, whether you are a small rural primary school or an urban multi-academy trust the apps available to you through RM Unify can provide the solution you want.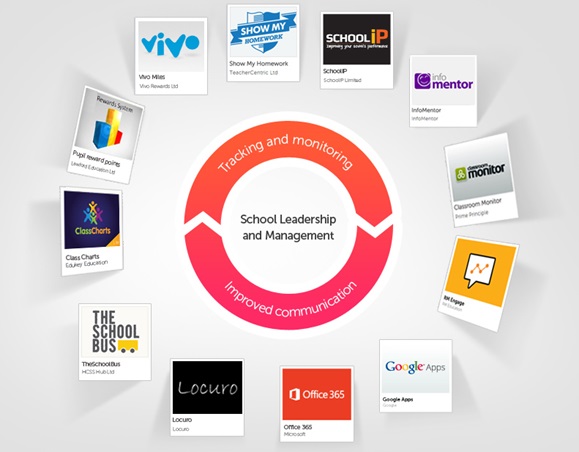 So, how do you breakdown the support that your SLT are looking for? Are you looking for improved tracking and monitoring software? Or is it improving communications both within the school leadership team but also across the school and with key stakeholders?
The apps available to you through RM Unify support continual planning and assessment processes, pupil reward systems, pupil tracking and report generation for many topics, including Ofsted and Pupil Premium. These apps have been designed to support school leadership and management, read the below bitesize app overviews to get an idea of what free and paid apps may work for you.
Tracking and Monitoring
Pupil Reward Points: A rewards system to record and recognise students' achievements, high attendance, extra-curricular activities, and more.
InfoMentor: Innovative cloud-based framework for planning, assessing, tracking and reporting. Designed to reduce administration overheads, improve attainment and demonstrate broader aspects of pupil achievement.
Classroom Monitor: Reporting and monitoring progression in literacy standards. Teachers record progress, store evidence of learning and set targets in an easy-to-use online markbook that's linked to curricular goals.
Vivo miles: Online school rewards and recognition system proven to increase student engagement, performance and achievement. Teachers can award "Vivo" points for desired behaviours that can then be redeemed in an online store and parental notifications is also available.
School iP: SchooliP is an online software suite developed to help schools perform more effectively. It seamlessly integrates performance management, improvement planning, Continual Professional Development (CPD), assessment against Teachers' standards and school self-evaluation into one intuitive solution, which will save school leaders significant time and money.
Improved Communication
RM Engage: Improve the effectiveness of your school communications with RM Engage. Communicate through multiple channels with your school's key stakeholders and track in real time their level of engagement with you.
The School Bus: Educated Questions, Educated Answers: A dynamic stream of information and downloads for SLT, teachers and governors.
Locuro Mobile Tracking: Developed specifically for school trips this app enables RM authorised parents to log in from any internet enabled PC and join in their child's experience while on a school trip.
3Fifteen – A safeguarding system that protects both pupils and the school staff from the daily challenge of "Who is authorised to take that child home today?"
Office 365 (SharePoint 2013) – A suite of online productivity and collaboration tools, including the MS office web apps for Word, Excel, PowerPoint and OneNote.
Google Apps for Education – A suite of online productivity and collaboration tools.
To find out more about any of these apps email us at rmunify@rm.com or call us on 0808 172 9525.