Welcome to RM Unify v2.30
In this release, the Glow login page has undergone a refresh. The username and password fields are now larger, and there are less links on the page. You'll notice its now much more engaging, with the Glow purple colour scheme, and there's also now a bigger Sign In button.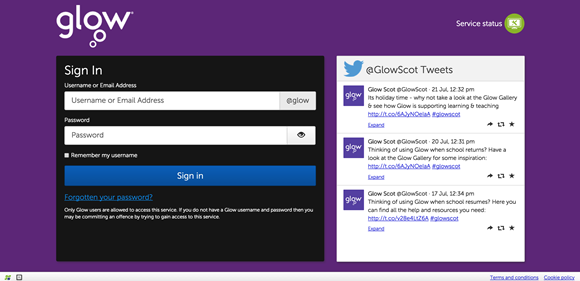 Glow schools should continue to go to glow.rmunify.com to login.
RM Unify Desktop Single Sign-on – Field Trial schools welcome
Schools who use RM Unify Premium in England and Wales are eligible to set up RM Unify AD Sync for their users. This tool syncs usernames, passwords, role and Year group membership with cloud services through RM Unify. Currently users login to their school device, navigate to their RM Unify login page and login using their network credentials.
Desktop single sign-on automatically logs users into RM Unify when they login to their school device. This feature is set for General Release for all RM Unify Premium schools in September 2015. We are welcoming schools to sign-up to our field trial project now, in order for them to have early visibility of the setup tasks required (and ultimately access Desktop single sign-on earlier).
Note: This feature will not be made available to Glow schools.
If you wish for your school to take part, email us at rmunify@rm.com