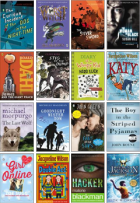 Penguin Random House UK today announced its full catalogue of ebooks are available for libraries to lend.
RM Education, the UK's leading education technology supplier, today announces that children's and young adult fiction titles from Penguin Random House UK are now available for schools to add to their school ebook library via RM Books, the UK's most popular ebook platform designed specifically for schools.
Read the full press release: Penguin Random House UK's ebook Extended Lending Trial now available to UK schools via RM Books
For more information on how to fill your elibrary with Penguin Random House titles, click here.