RM Unify v3.2 is here. This automatic update will be music to the ears of schools currently using or looking to use Chromebooks with their RM Unify accounts. v3.2 of RM Unify comes with single sign-on for Google Chromebook devices for RM Unify and associated applications, including Office 365.
How will Chromebook single sign-on work?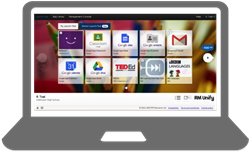 A student and teacher using a Chromebook is required by Google to enter their email address and a password when they open the device. RM Unify allows Google users to sync their RM Unify password with their Google password. This means, the user can enter their email address and RM Unify password when logging into the Chromebook. Once logged in, this creates an RM Unify session for them, and they can navigate to RM Unify without the need to login again. Simple.
If you would like your school to begin benefitting from Chromebook single sign-on right away, just follow the setup instructions in this Release Note.
Chromebook single sign-on is only available to schools using RM Unify Premium. Glow schoolsare able to make use of this feature.
If you have any questions about using RM Unify with your Chromebook devices, contact us at rmunify@rm.com.
p.s. isn't single sign-on great?!