Our analysis has identified that on average, the secondary schools surveyed are spending around £135 per pupil on school employed ICT teams and any outsourced technical support. For the 'average' school in this survey with 693 pupils on roll, this equates to a spend of at least £93,555 per annum revenue spend on ICT support.
What am I spending per pupil?
Your calculation needs to include the base salary of your Network Manager, ICT Technicians and any third party support and network contracts, plus any pension contributions, training, NI, recruitment, sickness or holiday cover and any line management costs.
If you are paying over £115 per pupil on your ICT support, we think you're probably spending too much.
Lower cost = higher quality
Just because you could be paying less for your ICT support, you don't necessarily need to take a hit on the level of service you provide to your teachers or learners. Effective management of your ICT budget is more about creating a strong team that works with you to achieve good levels of responsiveness and resolution, but that doesn't always mean adding more staff to your ICT team.
It's getting harder to employ an onsite team of technicians who are sufficiently skilled in the multitude of technologies we use in schools today (never mind the ones you'll need to train your team on in the future) without paying exorbitant fees for these expert services. Working with an ICT partner such as RM Education can help you fill any skills gaps you have in your onsite team.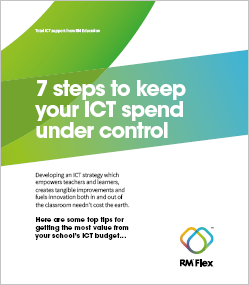 Download 7 ways to keep your ICT spend under control to see how you might make savings to your capital and revenue budgets.
When you find the right ICT partner, you can leverage the skills and experiences of a larger and more experienced team for the same cost as one in-house technician, and that has to be sound business sense, doesn't it?
If you would like a Services Architect to visit your school to review how effectively your ICT budget is working for you, please email us with your details.