V2.18 of RM Unify is here. We've been continuing to trial our 'MIS sync' feature with a number of schools across England and Wales this month, and we plan to release this for all Premium subscription schools to access in the very near future. An announcement on that will be made soon.
This month we're delighted to announce an improvement to the way in which RM Unify can further support the use of Office 365 in schools. It will specifically benefit those people who use Link Tiles on their Launch Pad to access specific content within Office 365 such as a popular file, SharePoint page or OneDrive folder. Previously, this type of web link would have required an individual to login to RM Unify each time they want to access specific content from their Launch Pad. Now, the experience can be made seamless; no additional login is required each time. This will be made available to all RM Unify Premium Schools, including Glow. Details on this feature are outlined below in 'Release Headlines'.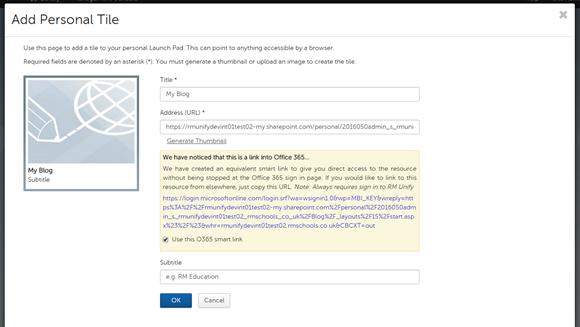 Secondly this month, you may also notice our colour scheme has changed slightly. Recently we've been working hard towards achieving an accessibility standard for RM Unify: WCAG 2.0. This accreditation will mean that RM Unify meets accepted standards for web content accessibility, meaning it can be used by those with disabilities such as blindness. One of the required improvements for the standard was a colour scheme change – you may have noticed our command buttons and some text within RM Unify has changed to a darker blue colour.
For more information on RM Unify accessibility, go to: www.rmunify.com/SecondaryPages/Accessibility (when logged in)
Read a comprehensive Release Note for RM Unify v2.18 here.