Last week Ofsted announced far-reaching changes to the way it inspects early years provision, schools and further education and skills. These changes will come into effect from September 2015.
There are three key changes you can expect to see from September 2015:
Common Inspection Framework
Shorter Inspections
Changes to the Ofsted workforce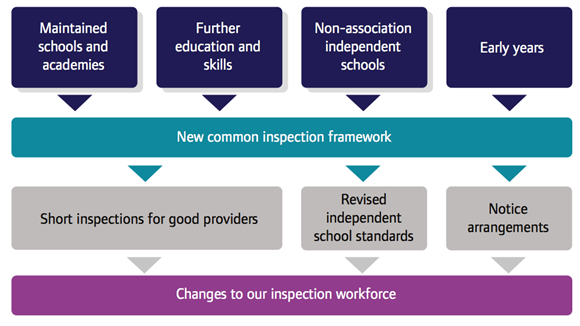 An overview of the new Ofsted changes
1. Common Inspection Framework
A Common Inspection Framework (CIF) has been introduced for all early years settings on the Early Years Register, maintained schools and academies, non-association independent schools and further education and skills providers.
The CIF will provide consistency and comparability in Ofsted's inspection of all education provision, which was previously inspected under several different frameworks. This means that inspectors will write their judgements in the same language and mean the same things.
2. Short Inspections
Shorter inspections have been introduced for maintained schools, academies and further education and skills providers that were judged good at their last full inspection. These short inspections will be conducted approximately every 3 years. This change has been made to reduce the burden of full inspections on good schools and providers.
Through short inspections, Ofsted will be able to recognise and acknowledge earlier where schools and providers have improved. It also means that schools and providers that are in decline will be identified earlier and supported faster. Shorter inspections will allow Ofsted to provide more up-to-date and relevant information to parents, to the broader community and to schools and providers themselves.
3. Changes of Ofsted workforce
Significant changes to Ofsted's inspection workforce. From September 2015, Ofsted will contract directly with inspectors for maintained schools, academies, non-association independent schools and further education and skills inspections. These inspectors will be called Ofsted Inspectors. Inspection for these remits will no longer be outsourced.
Only one week ago, Ofsted announced a 'robust assessment' of their inspectors which whittled down their inspectors to 1,600. 1,200 school and college inspectors were assessed as not good enough to judge schools.
Read the news report on this.
Read an overview of the Ofsted changes here.



Find out about the apps available through RM Unify which can support you in school leadership and management.



Source for this blog: https://www.gov.uk/government/uploads/system/uploads/attachment_data/file/434314/The_future_of_education_inspection_understanding_the_changes.pdf