Guest Blog post: Michael Dowling-Fleet, Chief Executive, Milk Student Work Diary app
Milk's founding principles are:
Increase student engagement and enable support from parents
Reduce administration and workloads for teachers
Improve school communications and learner-centric interaction
Developed by UK teachers and award winning app developers, Milk operates using Android and iOS and is also web based, so users don't need a Smartphone or tablet to join the edtech revolution.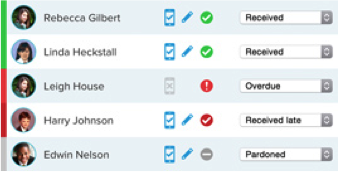 Because Milk's ethos is all about reducing teacher administration, once you log in, everything has been done for you. Your class lists, timetables, reports, student targets, etc, is all automatically synced every 24 hours from your school's MIS, e.g., SIMS. Your students receive push-notifications on their devices whenever you send homework or messages. You can also confirm if a student has received their message or looked at their homework. More great features are being offered up in the works from September 2015, when students can "R.A.G." their homework's difficulty, providing teachers with immediate feedback on which VAK learning style their students prefer. That's a huge box 'ticked' for student-teacher interaction!
As the product stands right now, it produces better homework submission rates and less excuses from everyone. Every set homework task is archived on the system and homework reports can be easily exported in .csv file format.
The team at Milk have stressed that it is not a VLE, but it does enable schools to make huge photocopying savings as hyperlinks to worksheets can be inserted into homework posts and direct file/media uploads will be live for September 2015.
Why is Milk so unique?
Milk's student dashboard allows teachers, parents and students to see a "R.A.G." snapshot of their progress. This system is "future-proof" in the current "life-after-levels" situation that many schools are faced with trying to resolve.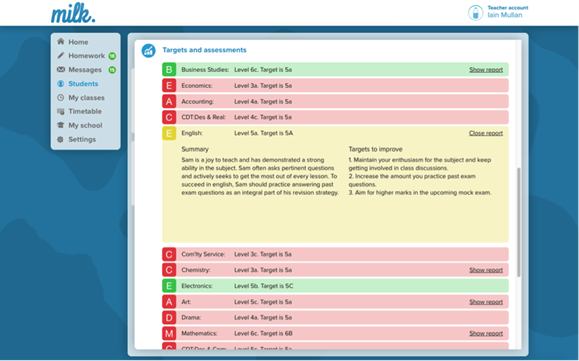 Ofsted can immediately see that a school has informed students and parents of progress and provided accessible feedback. The system can trigger early intervention and should eliminate many of those "bombshell" moments on parents' evening.
Milk's targeted messaging system enables teachers to message certain groups and individuals within every school and college (great news for office staff reading this – no more running around!). Messages can be sent to classes or groups of individuals. Year group messaging and dynamic group messaging (e.g., selecting 'all female students in year 9 or above'), as well as the option to create custom groups (e.g., ski trip group) and save these for later use as required.
The best thing to remember is Milk is a web based application, so teachers can set and send homework and messages 'off-site' from the comfort of their home. Schools can restrict its times of operation to support their mobile phone policy, for instance, schools can disable Milk on mobile devices from the start of the school day until lunchtime, and then switch it off again until the end of the school day. The result is a robust homework diary that never gets lost and takes pride of place in a student's hand from the moment they leave the school gates, rather than being torn, neglected and forgotten at the bottom of their school bag.
"Milk has transformed the way I communicate with my 6th Form students and their parents. Missed assignments or lateness to college is addressed immediately thanks to Milk, and the resulting positive impact on students meeting their deadlines has been immediate."
"Most products we've introduced to our school have come close, whereas everything Milk does, from the perspective of our staff, our students and their parents, is spot-on!"
Kevin Smith, Assistant Head at Rushcroft Foundation School.
Homework submission went up by 44% and punctuality increased by 87%
The pilot study at Rushcroft supports the theory that when students are faced with the actual data pertaining to their achievement and performance they will want to improve it. For example, students had to confront just how many times they were recorded late on their school's MIS, many were astonished and reacted accordingly by improving their punctuality.
Experiences amongst schools shows that Milk is well adopted by parents because they value being able to keep in touch with the daily lives of their children at school.
Many parents are already used to being communicated to via existing text messaging and email services, but Milk provides them with a powerful overview of all aspects of their child's performance, from anywhere 24/7. This has proved particularly powerful with children whose parents are living overseas and want to keep up-to-date with their child's life at school.
Milk prides itself on offering schools a quality service, as opposed to "just another piece of technology".
Milk takes an average of just 40 minutes to install, and it's so user-friendly, staff training is rarely required, but is provided anyway as part of its competitively priced annual licence package. This "learner-centric" software application saves schools time and money, and supports compliance with teachers' standards and Ofsted requirements. New functionality is being continually updated in response to customer demands, schools have total control over what their students and parents see and Milk is now available with single-sign-on via RM Unify.
Follow Milk on Twitter @milkplanner or visit their website milkstudentplanner.com/ for more details.