Welcome to PowerWise!
PowerWise, the outstanding new educational website from ScottishPower, teaches children and young adults all about electricity and how to stay safe around it – and now it is available to you, for free, through your Glow Launch Pad.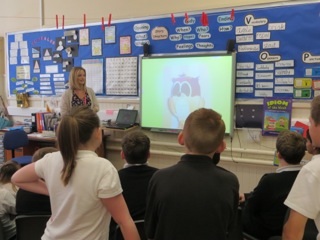 A class at Thornton Primary School, Fife, using PowerWise.
PowerWise's aim is to help young people to stay safe, be responsible and to generate an interest in the future of electricity. Through a combination of interactive activities, animations, creative missions and innovative lesson ideas, children and young adults will be drawn into today's and tomorrow's world of electricity.
Lesson plans spanning from EYFS to KS4 have clear learning objectives and success criteria that will challenge, engage and inspire your childrens' learning. Whilst some of them are purely science related, others focus solely on aspects of responsibility, choices and safety both inside and outside the home. All lessons, however, are cross-curricular and can slot in to many medium term plans and topic work.
Children in Early Years and Primary will become familiar with the characters, Ollie and Sparky, who encourage discussion and reinforce learning objectives in an engaging and fun way. Secondary lesson ideas encourage the use of the latest web 2.0 sites and have activities with a relevant 21st Century focus. Where possible, learning has been linked to exam questions. Lesson ideas can be taught in order to form a learning journey or you can 'dip in' and choose lessons that fit in to your medium term planning – it's entirely up to you!
Louise Smith, Glow Advocate, recently visited Thornton Primary School in Fife to see them using PowerWise. The class were learning Lesson 2.12 'Power Station to Plug', they watched an animation of the journey of electricity and then created an electricity timeline.
Download the PowerWise lesson plan for 'Power Station to Plug' here.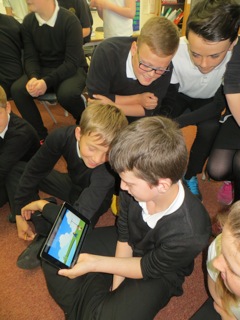 Helen Campbell, Primary 7 class teacher and Principal Teacher at Thornton Primary School, won an iPad for her class last month for registering with PowerWise.
See a sample lesson created by PowerWise below:
Lesson: "Who Turned the Lights Out?"
Learning Objective: To understand that electricity will not flow when
the circuit is broken.
PowerWise is now available to you completely free through your Glow Launch Pad, simply go into the App Library and add PowerWise to your Launch Pad.
If you would like more information on PowerWise or some hints and tips on how to use it in your classroom please contact Louise Smith, Glow Advocate, at louise@do-be.co.uk