Guest Blog – James Green, Head of Educational Development at J2e @just2easy_com
The Just2easy Tool suite enables schools to master any elements of the new computing curriculum easily from Reception to Year 6 and beyond. Infact, our latest tool, j2code just won a BETT 2015 Award. It is not surprising that schools' love our latest tool with 3 coding engines as standard with differentiated levels and lesson plans. Teachers and pupils enjoy the support and flexibility of the platform whether they are using iPads, Chromebooks or regular desktop machines. Like all our tools, we believe that our Toolsuite should work at the point of need, irrespective of which device you are using. Coupled with our amazing digital paper, j2e5 or our Junior Infant Toolkit schools are always finding a wealth of opportunities to develop the curriculum further.
Find out what people are doing with our tools on Twitter @just2easy_com
The Toolsuite comprises of a number of curriculum focussed tools that encourages the pupils to explore their understanding of additional subject areas, not only Computing, and encourages them to present their work in collaborative, creative and imaginative ways.
The tools have recently been updated to include j2review that ties in with learning conversations and progression statements, making it perfect to monitor progression and to celebrate success. As you would imagine, our tools have been designed by teachers with the classroom in mind. Teachers love the ease of use and intuitive nature of the whole Toolsuite which gives pupils from the youngest age, an opportunity to become digital leaders and to become fluent in digital literacy.
"I was really nervous in the beginning when we started to use J2 code…but just going into the app and looking at the examples gave me that confidence to know how to use the app itself and also what I needed to do to teach it."
Tanzila Hussain, Year 4 Computing Teacher, Bigland Green Primary School
Just2easy offer exceptional value at an unbelievable price so why not find out why 1000's of schools use and rely on the Just2easy Toolsuite with a free trial. Find out more today by calling 0808 172 9525 or emailing rmunify@rm.com
See how teachers and pupils are using J2Code at Bigland Green Primary School to support the computing curriculum…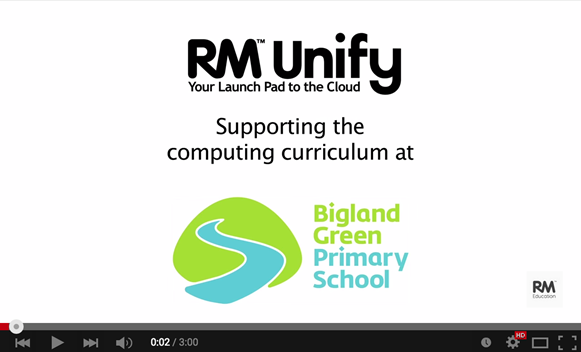 Watch how Hollymount School is using J2e through their RM Unify account to support the new computing curriculum from Reception to Year 6…