If you are an Early Years teacher or TA you know that too much of your time is taken up in recording, managing teaching evidence and presenting this in EYFS assessments.
So how can we help?
Earwig is an app which allows you to turn photos, document scans and video clips into useful teaching evidence. Schools have been thrilled with how easily Earwig allows staff to capture the magic moments that occur during a school day and to share these with parents in a systematic and professional way.
Earwig works at every level from Nursery to University but is particularly useful during early years. So now, at the request of the schools currently using Earwig, the company has produced a special module for nurseries and reception classes which enables teachers to turn those photos, documents and video clips into EYFS assessment statements and insert these efficiently into the right place in each child's individual EYFS matrix for Areas of Learning, Characteristics, Aspects and Outcomes. This enables you, as an Early Years teacher or TA, to make more accurate assessments and present these beautifully, supported by complete printed Learning Journeys – at the click of a mouse!
An example of an EYFS Earwig timeline: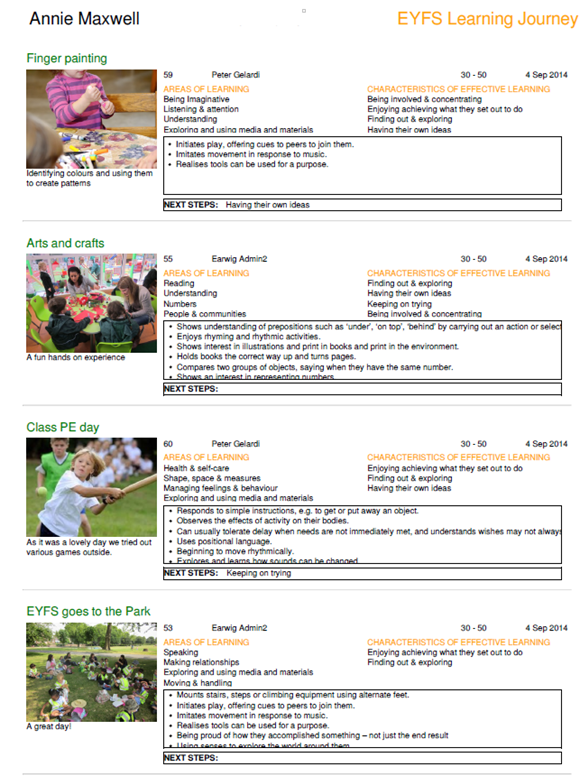 Schools that have started using this package believe that the time taken to deal with the EYFS reporting requirements will be halved. Yes, halved. But more importantly, your reports are better organised and presented and so you, and your school are always 'Ofsted ready'.
How does it work?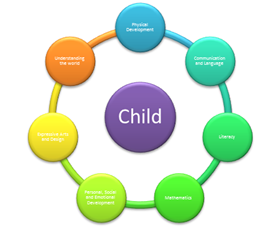 Using the app for tablet or smartphone, (or a digital camera and pc) you take a photo, document scan or video and turn it into a teaching record. You add a commentary to this, and tag it with the names of the children, Areas of Learning, Characteristics of Effective Learning, Outcomes, Next Steps etc. and the software does the rest. It couldn't be easier.
All this is automatically uploaded to the Earwig system and the photo/video is automatically deleted from your tablet or smartphone (we take child protection very seriously). As records are made, timelines are created.
When you log in through RM Unify you will see the Areas of Learning and Characteristics of Effective Learning matrices all filled in using the information you saved in each record. You can then make informed decisions about the progress of each pupil against age range criteria and record this in each matrix. You can then present all of this in a variety of printed reports.
By doing a tiny bit of evidence recording a day, you save yourself hours of last minute work – and a fortune on highlighters and Pritt Stick!
If any of this doesn't make sense, just give us a call and we'll be happy to explain over the phone, or pop round and give you a demo.
Since this is a completely new way of recording evidence there is no other system like it – so even if you already use an EYFS system, it's worth remembering that Earwig:
Is effectively free, see below
Can halve the time you spend on EYFS assessments and reporting
Will improve image security at your school
Allows parents to see the photos and videos of their children (as they're published)
Can continue right through from early years to sixth form
Can be accessed with one click through RM Unify
Another unique feature of the Earwig package is that it pays for itself!
The Earwig system gives parents a secure login so that they can see what their children are doing at school. Parents love this and your Ofsted inspector will love the improved parental engagement which results. The cherry on the cake is that your wonderful photos and videos are available to parents to download and purchase as prints and photobooks, which makes money for your nursery or primary school.
Some nursery teachers may be concerned that it is all a bit technical. But you have nothing to worry about as Earwig send a trainer to every school to take each teaching staff member through the process in person and make sure that everyone sees how easy it is.
Earwig is one of those rare apps which can really make a difference to the way your nursery or reception class is run and provide you with more time to spend with the children.
How much does it cost?
The Earwig system costs £2.50 per child per year, and the EYFS module a further a £1 per child.
However, after the first year, the money you make in photo sales commission should more than cover these fees – which means that Earwig pays for itself!
If you want to see how Earwig works to support EYFS, take a look at this quick video.
To understand more about Earwig, go to www.earwigacademic.com.
To find out more about Earwig and how RM Unify can help support you, please email rmunify@rm.com or call us on 0808 172 9525.