In the RM Education annual survey, conducted in July 2015, it was revealed that 81% of SLT in Secondary Schools and 80% of SLT in Primary Schools would be prioritising resource spending over the next 12 months on numeracy.
In response to Nicky Morgan's announcement of her 'war on illiteracy and innumeracy' it is unsurprising that SLT have responded with this heightened focus on raising attainment in numeracy.
There are a range of applications available within RM Unify which support numeracy for a range of ages and abilities, all easily accessible on any device, from anywhere and at anytime with just one username and password.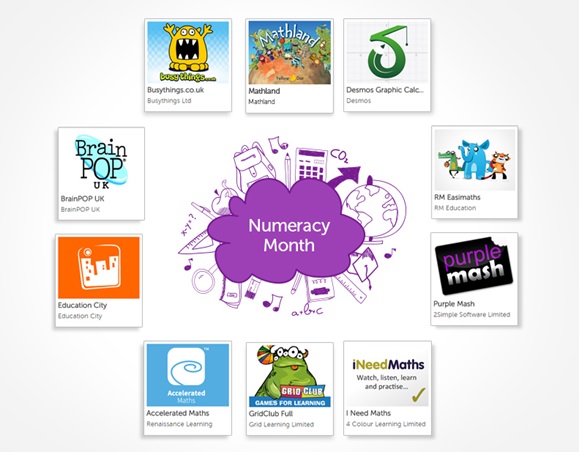 RM Easimaths
Improve primary maths through personalised online tuition.
RM Easimaths is a whole-school maths solution covering Reception to Year 6 of the National Curriculum and P1-7 of the Curriculum for Excellence. RM Easimaths progresses pupils at their own pace ensuring that they are challenged at the right level for them. Comprehensive reports enable the teacher to see usage, progress and problems, enabling targeted support for pupils.
I Need Maths
A student centred multimedia resource with complete coverage of all GCSE and IGCSE topics at foundation and higher level.
I Need Maths builds confidence and ability with focused video lessons, clear explanations and worked examples. Linked worksheets, with answers and resources for all topics and modules reinforce and consolidate learning.
Self-assessment tools, rewards and a personalised dashboard encourage students to engage and target areas where they need to review their learning and practice for exam success.
I Need Maths is a quality resource for you and your students – in the classroom, in a workshop, at home – anywhere and anytime they need extra help with maths.
GridClub
GridClub is a creative, refreshing and motivating learning website for children, engaging their imagination, developing their skills and ultimately inspiring their learning (5-12 years).
The GridClub learning website contains a huge range of interactive online resources and activities designed for use in schools, libraries and at home.
There are 500+ curriculum-mapped, interactive learning resources, games and videos, a reference section, a parent's area and a large teacher's and librarian's area with curriculum links, lesson plans, subject planners, assessment packages and worksheets.
GridClub covers English, Mathematics, Science, History, Geography, Design & Technology, Art & Design, Music, Personal & Social Education, Physical Education, ICT (Information & Communication Technology), Citizenship and Languages (French, Spanish & EAL).
BrainPOP
BrainPOP® creates animated, educational content that captivates students, supports teachers, and adds excitement to lessons.
In primary and secondary classrooms, on mobile devices, and at home, BrainPOP explains the world through animated videos, educational games, interactive quizzes, and online activities.
Access to 700+ cross curricular and cross phase topics, containing 10,000+ hours of digital teaching material, across Science; English; Maths; Humanities; PSHE; Design & Technology; and The Arts.
Busythings
Busythings Ltd. is a multi-award-winning early years and primary specialist committed to making content that is high quality, fun to play and with clear educational objectives.
Busythings is a wonderfully quirky online resource featuring hundreds of games, activities and downloadable resources. All content is mapped to the EYFS and National Curriculum Key stages 1 and 2.
Accelerated Maths
Accelerated Maths™ (AM™) software makes the essential practice component of any maths curriculum more effective for students of all ages and abilities. AM enables differentiated instruction and personalised maths practice for every student, while data from immediate feedback allows teachers to monitor progress and intervene with appropriate instruction when necessary.
Desmos Graphic Calculator
Desmos have invested a lot of time into creating powerful, streamlined browser based graphing calculator that's really fast and easy to use. They want to liberate students from the burden of carrying around an outdated, unnecessary, expensive piece of hardware in their backpacks. No longer will you need to worry about remembering your calculators. It's always online.
Purple Mash
Purple Mash is the award-winning website from 2Simple. Using Purple Mash, children can enjoy enhancing their knowledge and experiences in a cross-curricular way from both school and home.
Purple Mash is ideal for children aged 4-11 (as well as for learners with special educational needs). Start with the themed painting activities and explore some of the textured paints.
Purple Mash is not available to purchase through RM Unify. Instead, this App allows you to use your existing subscription licence that you've purchased from 2Simple directly, and use it to create new Purple Mash accounts from RM Unify.