Why not celebrate St Andrew's Day on 30th November by using Scotland on Screen and Glow Blogs?
Context
Scotland's National Day is a true celebration of Scottish culture and a key part of Scottish identity. Scottish schools traditionally hold their own events and activities, all of which are designed to be both educational about Scottish culture and a celebration showcasing many different talents such as music, arts, dancing recitals and presentations.
Through Glow, Scottish schools have access to a treasure chest of cultural history, 'Scotland on Screen'. This resource helps us to discover Scotland's heritage in film. Scotland on Screen contains hundreds of films to watch, discuss and use as inspiration for your own projects such as St Andrew's Day. Each film clip is accompanied by suggestions for activities that you can do before, during or after watching.
Core
This is one of a series of lesson ideas that help teachers use some of the tools in Glow. The skills that pupils develop in using collaborative and publishing tools are core skills that can help to facilitate many other learning opportunities. Teachers seeing this in practice have been inspired to use the same methodology across topics and contexts.
In this lesson idea learners will research online content using Scotland on Screen then create a Glow Blog to celebrate St Andrew's Day. Learning to blog in a safe environment can help to contribute to online safety and acceptable use policies.
Guidance for blogging in Glow can be found here:
blogs.glowscotland.org.uk/glowblogs/glowbloghelp/
It is recognised that this session may be delivered over a number of lessons; it is a great context to continually build on.
Aims
To learn about and celebrate Scottish history, traditions, environment, music and culture.
To curate historical content using 'Scotland on Screen'.
To present findings to an authentic audience and gain valuable feedback from peers and to develop skills in posting and responsible use of the Internet by using Glow Blogs.
Learning Outcomes
All children will develop a deeper understanding of Scottish history, culture and St Andrew's Day and will contribute to a class blog.
Most children will curate and download relevant video content.
Some children will understand how to create blog posts, search and analyse video content.
Learning Intentions
To celebrate and expand current understanding of Scottish culture and traditions.
To contribute to an online blog, tag and post content.
To search an online database of multimedia content.
Cross curricular / Interdisciplinary learning Links
Citizenship, Health and Wellbeing
Vocabulary - Blogging, WordPress, Collaboration
Teaching Steps
Step 1 – Preparation – Creating a Class Glow Blog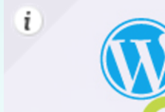 You can create a WordPress Blog very easily in Glow, just click the Glow Blogs tile in your Local Authority Launch Pad. To add it to your personal Launch Pad click on the small 'i' and click 'Add to my Launch Pad'.
Once you have opened Glow Blogs, click the Link for 'Create a Blog'.

You will then be taken to the next screen where you are asked to fill in your site name and title. You might want to spend some time thinking about your site name and how this will be reflective of the purpose of your blog as this cannot be changed (the title can be changed).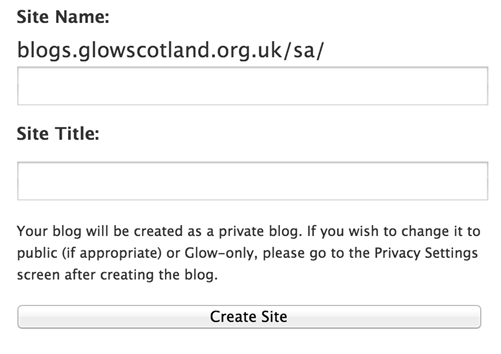 At this stage your blog will be private but you can share it by going to Privacy Settings in 'Settings' then 'Reading'.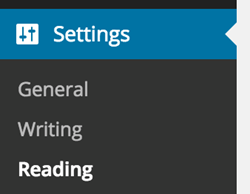 Here you can then select whether you want your blog visible to the public, Glow users only or to remain private.

That's it – your blog has been created! Now you can go into your Dashboard and add Users.
Step 2 – Preparation – Adding Users

Selecting Users then 'Add Users' on the black left-hand list brings up the screen above. You can add pupils in by listing their usernames on separate lines. At this stage, you are the Owner with full administrator rights, you can add pupils as Authors; this means they can publish and manage their own posts. Please note that if pupils have not used Glow before they may show as 'Pending', but this will change once they have logged in. This blog will appear automatically when they click on their Glow Blogs tile – so no extra links are required!
The 'Appearance' link on the left-hand list allows you to customise the look and feel of your blog. Many of the pre-organised themes are fully customisable. You can add pages and posts. You may wish to add a page for 'Learning Reflections' as this is a good way to demonstrate how the technology has facilitated learning for all. You may also wish to add a page called 'We are Responsible Bloggers', this can be developed further on in the lesson.
When adding a new post you will see 'Categories' at the bottom right. Categories are a way to group posts, you can add Categories which reflect the context of the blog such as 'Our Class Celebration Ideas', 'St Andrew' or 'Scottish Heritage'.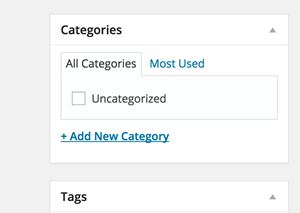 You are now ready to go!
Step 3 – Introduce your lesson
Through structured discussion (paired or groups) encourage pupils to reflect on their existing St Andrew's Day knowledge and create a list of the activities that they have participated in previously to celebrate the Day. This discussion provides a pre and post activity assessment of learning.
What do we know about St Andrew's Day?
What activities have you participated in before to celebrate St Andrew's Day?
Explain the purpose of the session and the purpose of creating a St Andrew's Day class blog.
Step 4 – Introduce the Blog
If you have not got an Online Safety Policy in place, this is an excellent time to co-create some ground rules for creating, posting and commenting on the blog posts. A good place to start is the Glow Community Newsfeed Rules.
After going through these together, get the class to consider these questions:
What is missing?
Does it cover spelling, punctuation and grammar?
How can we ensure everyone is complying with our own class rules?
Add any ideas/rules to the page 'We are Responsible Bloggers' and explain to learners that by using the blog everyone is 'signed up' to these rules.
Step 5 – Researching St Andrew's Day
As a warm up activity ask pupils to search for information about the history of St Andrew's Day. A great place to start is http://www.scotland.org/whats-on/st-andrews-day/
Create a first post entitled 'Who Was St Andrew?' In your blog dashboard click on 'Posts' on the left and you will see the screen as below.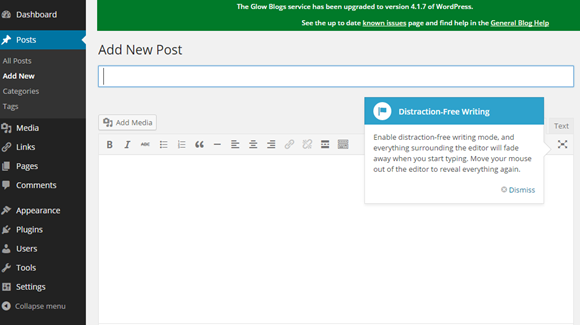 When you have created the post click 'Preview' to see what it looks like. This is a good step to ensure that pupils check or peer check their posts before they publish. When you are satisfied click 'Publish'.

Step 6 – Scotland on Screen
Introduce 'Scotland on Screen' and encourage pupils to explore the films that they identify with.
Ask them to reflect on the earlier discussions.
Can they find a film that relates to a story of their family?
Can they find a film that is near to their hometown or holiday place?
Can they find a film that shows a hobby or interest?
The films can be downloaded and shared on the blog with commentary from the pupils. Ask them to post their chosen films and include their reflections in the blog post.
Step 7 – Post
It may be helpful to pair up learners that have written a post with those that haven't to allow for peer support. It is important for pupils to get a sense of ownership to the post they have created and publishing independently is a part of this.
Step 8 – Planning for St Andrew's Day
Through structured discussion, ask that through the research:
Can they add any suggestions for celebrations?
Then:
Create a post on their ideas with a category 'Our Class Celebration Ideas'.
Step 9 – Class Review
Facilitate a structured class discussion regarding how the class blog has built up a rich range of resources and ideas. You may wish to record these answers and publish them on a separate page such as 'Our Learning' on the blog.
Next steps to build on (or prepare) for this session
Saltire Your Face! You don't need a Facebook account for this. But it is a Facebook hosted app, it is fun and shows an image editor:
https://www.facebook.com/AboutScotland/app_291827864261438
You can add the picture to the blog!
Another great source of Scottish Culture (Highlands and Islands) ishttp://www.ambaile.org.uk/ This can be used alongside Scotland on Screen.
Develop a #hashtag and discuss with Scottish Schools what other activities are taking place in the National newsfeed – remember to add the hashtag #sharemylearning
Links to the Curriculum for Excellence
| | |
| --- | --- |
| Curriculum Area and Outcomes | Description |
| Technology: TCH 1-04b; TCH 2-04b; TCH 1-09a; TCH 2-09a | TCH 1-04b; TCH 2-04b – I can create, capture and manipulate sounds, text and images to communicate experiences, ideas and information in creative and engaging ways.TCH 1-09a – I am developing problem-solving strategies, navigation and co-ordination skills, as I play and learn with electronic games, remote control or programmable toys.TCH 2-09a – Using appropriate software, I can work collaboratively to design an interesting and entertaining game which incorporates a form of control technology or interactive multimedia. |
| Literacy across Learning: LIT 1-06a; LIT 2-06a | LIT 1-06a – I can select ideas and relevant information, organise these in a logical sequence and use words which will be interesting and/or useful for others.LIT 2-06a – I can select ideas and relevant information, organise these in an appropriate way for my purpose and use suitable vocabulary for my audience. |
| Mathematics: MTH 2-17c | MTH 2-17c – Through practical activities which include the use of technology, I have developed my understanding of the link between compass points and angles and can describe, follow and record directions, routes and journeys using appropriate vocabulary. |
The above lesson idea can contribute to gathering evidence for the following Experiences and Outcomes.