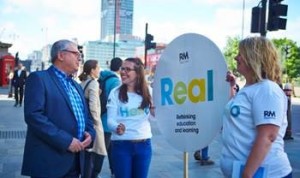 This year's event spanned every aspect of education, from Ofsted reforms to emerging trends in technology; but there were also some key Real - kerrythemes which emerged throughout the day.
Here's our rundown:
Learning leading technology
One of the most frequently repeated and compelling themes at Real 2015 was the need for learning to lead technology, and not the other way around. Many schools go out and buy technology without having a strategy for how it will support their pedagogy, and that leads to an enormous amount of waste. Technology companies are constantly developing tools which help teachers engage and inspire their learners, but it's down to educators to have a clear plan for how they're going to achieve that.
ICT alone will not transform learning – but learning will not be transformed without it.
Preparing our students for the workplace
It's becoming increasingly clear that there's a link between economic growth and educational outcomes, and governments around the world are looking at education as the key driver for this growth. As we prepare our students for their future careers, it's vital to keep in mind that in today's competitive jobs market, employers aren't going to hire people who can simply look things up on the internet – it's about what they can do with that information.
Schools need to think about how children can actually apply their learning to practical and theoretical environments.
Collaboration as a key skill
Creativity and collaboration are now just as important as tech skills to future employers. Our three technology partners are working with companies around the world to make sure they're developing programs that are properly preparing students for the future, and the most desirable skills are the ability to collaborate and work well in a team, the ability to solve problems and the ability to communicate.
These three areas are where educators can really help to equip today's pupils for tomorrow's workplace.
'Anytime, anywhere' learning
The ideal learning environment should challenge students to become more pro-active in their own learning, both in and out of the classroom. As educators, we need to accept and understand that learning is happening all the time, everywhere; what we need to do is tap into what truly engages learners, and replicate that in the education environment – because when learners are genuinely engaged in what they're doing, their confidence soars and they feel more successful.
Making learning more personal
As hardware is coming down in price, it's now more affordable than ever – so the idea of one-to-one learning is now becoming a reality, if not right now then certainly in the not too distant future. All of our technology partners believe that a personalised approach is a key driver for learning transformation, which is why their products are designed to be focussed on the individual learner.
Whilst personalised learning is not a new trend, it is set to gain even greater momentum over the coming years.
Identifying content with value
There's such a vast amount of content out there, and learners can access a wealth of information at the touch of a button, inside or outside of the classroom. But as well as all the incredible content which can genuinely enhance learning, there's an awful lot of rubbish too – and one of the most important thing educators need to do is to help their learners to distinguish content that has value and give them those critical evaluation skills.
We're sharing lots more content from Real 2015 over the coming weeks, including summaries from some of our speakers and debates, key themes, new technology trends and classroom ideas.
To stay informed, keep an eye on our blog or follow the links on Twitter from @RMEducation with the hashtag @RMEducation.
Alternatively sign up for your place at Real 2016 at rm.com/real