In this five part series I am offering a few insights into the process of change management for those schools considering a move to the cloud. The first blog focused on issues surrounding collaborative cultures and the importance of executive sponsorship (read the first blog). This blog will take a look at the school year and its impact on change management.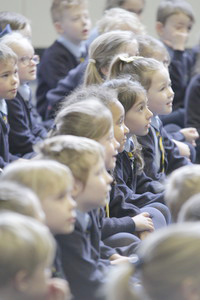 The school year is something everyone is familiar with. We all have memories from our school days. For those no longer in education, the school year continues to impact on us whether it is the cost of our holidays or the traffic on our roads. For those in education this time of the year is dominated by exams.
For teachers and senior leaders in the secondary sector, the exam season demands a focus like no other. The performance of the year 11 and year 13 cohorts will define the success of the school year. Understanding this is essential for any change project. Asking school staff to think about fundamental changes in approach, for example those demanded by a switch to cloud computing, will struggle to gain traction at this time of the year.
In practice, knowledge of the school year and its impact on change management helped our school (Fakenham Academy) to make a successful move to the cloud. For us, we targeted the final half term of the school year as the period best suited for our move to the cloud. Exam season had finished, older cohorts had left, and most staff were on slightly lighter duties. We had 6 weeks with a little room to breathe and the necessary space to give our change programme the best chance of success.
Our change programme was held together by 8 key principles. Number 1 was covered in my first blog!
Number 2: Understand your school's wants and needs
Sometimes called 'Strategy and Vision', this requires time and consideration. Bad ICT is too often a solution looking for a problem. Good change management on the other hand clarifies a school's strengths and weaknesses in advance of any proposed implementation. "Where are your now? Where do you want to get to? Why?". A good example of this is the desire for improved collaboration across a multi-academy trust (MAT) where staff and students can work together regardless of location. This is an example of a clear problem to which good use of ICT can offer a genuine solution.
Number 3: Recruit a network of champions
Remember this is not an ICT project - this is a change management project. As such we are looking for people who can drive change, and this is not necessarily the same as those who have a strong interest or skills in existing ICT. In fact, they are frequently the ones who are frustrated by the current offer and can't wait to do something different. More likely than not they already use the cloud in their personal lives through smart phones, tablets and devices at home. Get these people on side, enthuse them about the project, clarify their role in the change, give them the tools, reward and enthuse them. A team of champions is critical to driving the change.
In the next piece we will take a look at numbers 4 and 5. We will also investigate the change management timeline. How long is this going to take?
Missed my first blog in this change management series? Read it here.