To federate is to join, organize and unite with something.
If you work in a school in the UK today, then you'll know that change is the only constant. When it comes to online services to support curriculum delivery, there are endless choices. Make it easier to make the right choices, and reduce the time you spend setting up and managing those online services, by federating your accounts to a central Identity System.
With the adoption of new online services comes the need for new user accounts, a school license and the need to manage the user accounts over time. Services like Office 365 and Google Apps for Education are fantastic for schools looking to improve productivity and collaboration (at a much lower cost than traditional learning platforms!), but like any other online service, they require someone in school to be responsible for managing everyone's accounts, creating groups and regularly resetting forgotten passwords.
Federated Identity Management helps by supporting the management of multiple online services from one place. It saves you time, and it's much easier for users to remember just one set of login details – as their online identity is bound to one system. When the user goes to login to any of their federated online services, it's the Identity Management system that takes care of the login process.
Let's use an analogy to explain things further; Identity federation is like an amusement park. When your user account is federated to a system, it ensures your access to multiple online services. You enter an amusement park with your ticket, and you get a wristband that every ride operator can recognise and lets you on (think Disneyland).
Here at RM we have our very own theme park: RM Unify. An online platform packed with learning apps, accessible with one password. Buy a ticket and pick up your wristband giving you pre-approved access to over 70+ of the best apps available to education today.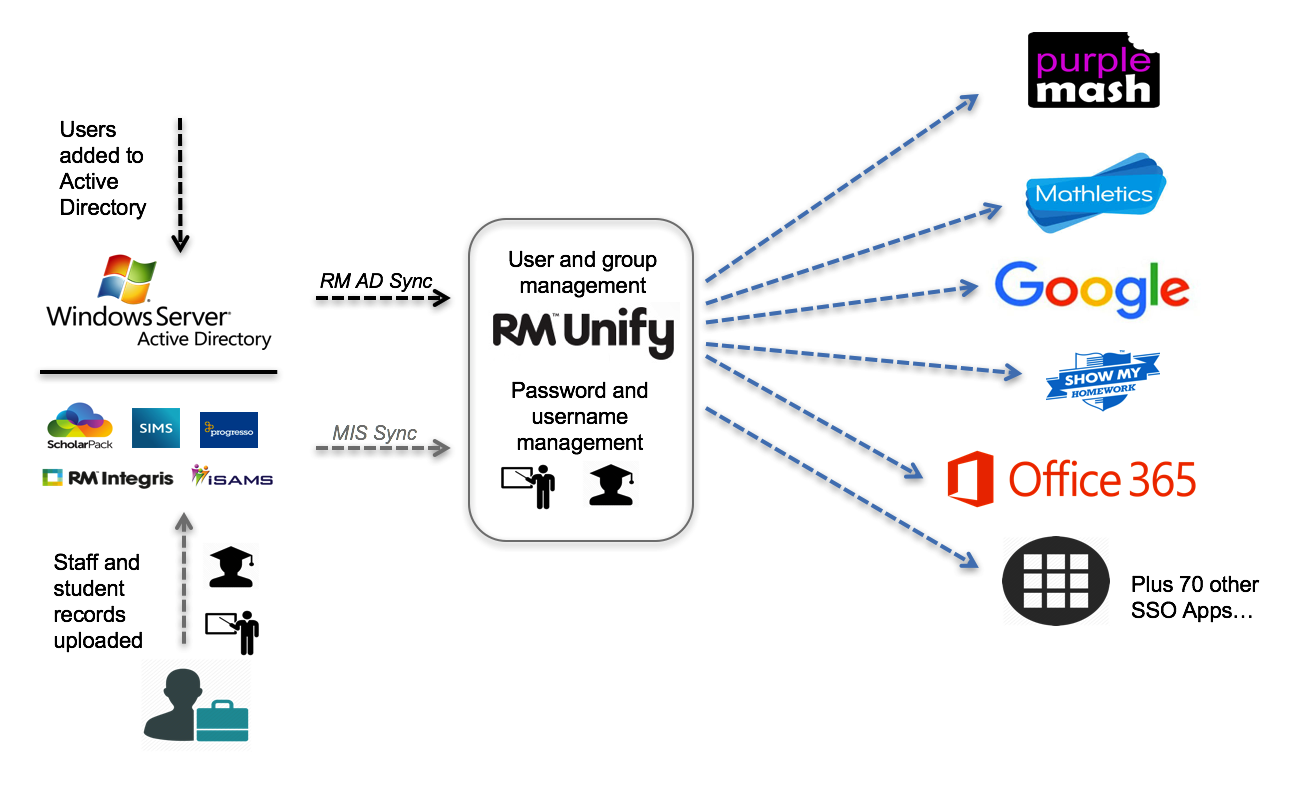 4,500 UK schools use RM Unify to make accessing teaching and learning resources simple
If your school uses RM Unify, user accounts are synced from your Management Information System or your Active Directory. This means user creation, user editing and user deletion is hard-wired to one of these source systems – much less hassle than doing these things manually. If you're using Office 365 for example, RM Unify makes sure users are provisioned correctly into Azure AD (with the correct licence) and keeps their user data updated (their username, role, and teaching groups).
There are over 70 online services available through RM Unify. Our single sign-on technology means users log into their device and access their (federated) online services without being prompted for another password. What's more, they're all accessible from one place, their RM Unify Launch Pad.