RM has teamed up with 3P Learning to offer access to their award-winning educational programmes, Mathletics and Spellodrome, through RM Unify. Both learning resources offer students fun and engaging content which is specifically tailored to the requirements of the UK curriculum.
Mathletics is a leading online numeracy programme which is already being used in 5000 schools throughout the UK. The resource contains over 1400 curriculum-aligned activities to develop mathematical fluency, problem solving and reasoning skills.
Spellodrome helps children to develop their spelling, writing and communication skills through fun and interactive activities which support them in the SPAG or GPS elements of the English curriculum. The resource contains curriculum-aligned word lists for KS1 and KS2 that can be customised from 10,000+ words to meet specific needs. Children can practise their spellings based on your word lists using a range of interactive activities.
If your school is already signed up to Mathletics or Spellodrome, then great! You can easily access these resources by adding the tile to your Launch Pad on RM Unify. Simply visit the RM Unify App Library, and add the tiles from there by clicking 'install'.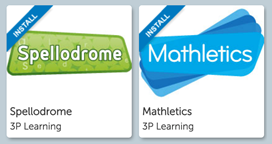 If you're stuck on how to do this, contact our friendly support team online at www.rm.com/support, or via email at rmunify@rm.com