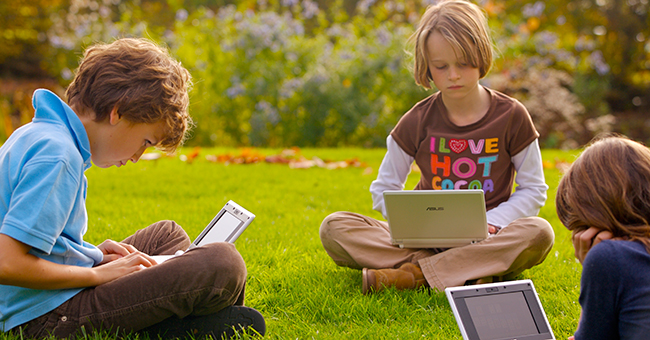 New research from the National Literacy Trust shows that ebooks, when trialled in English classes can encourage more reading, particularly in the case of boys.
The trial, carried out over a year in 40 schools – with 800 children getting involved – saw boys' overall literacy progress excel by 8.4 months, compared to 7.2 months for girls. Boys' daily reading rates also increased by 25%.
This is great news for schools where literacy in male children in still a big problem. 76% of schools are still concerned about the underachievement of boys' reading progress. (The National Literacy Trust)
Irene Picton from the Trust comments: ''In focus groups, children said the adaptability of ebooks gave them more confidence to read'' (BBC News). There is also the added bonus that ebooks can be used on the child's own device, so they can choose to read at any time, along with socialising and playing games. This means there's no disconnect between putting down a device and finding a book, and it's on a platform that children increasingly are starting to become accustomed to.
The children of the millennial generation are more clued up on technology than ever before, and children as young as three are interacting with apps on tablets and mobiles. It makes sense that schools tap into this familiarity with platforms that offer ebooks and literacy games to ease children into reading.
The National Literacy Trust also found that those reluctant to read were more likely pick up an ebook compared to a paperback. According to Irene Picton: ''I'd describe ebooks as a tool in the toolbox for anybody who knows a child who doesn't seem to like reading very much." (BBC News)
There are lots of ebook tools out there designed for school and for home use, but very few can be used for both. With our flexible rentable eLibrary ebook solution, RM Books, children can read on a school tablet, on their own mobile device, or a desktop, for 24/7 access to all their curriculum books and others. This means that kids can go home and continue to read on their chosen devices, improving their reading outside the classroom.
With a unique reporting function, RM Books can also enable teachers to track ebook use at school and at home, so they know which pupils are doing well and which are falling behind.
It's predicted that eLibrary collections and ebook use will continue to rise in schools. These results show that having access to a great ebook resource will help your school raise literacy standards, particularly in the case of boys.
To learn more about the opportunities we can offer both in and outside the classroom, read our guide to RM Books great features and benefits.