Loreto High School needed to give students and teachers easier access to their growing bank of online apps and resources while minimising the administrative overhead on their IT team. When Head of IT, Sarah Campbell came across RM Unify in 2013, she was sure she had found a simpler, yet cost effective approach to the more traditional VLE.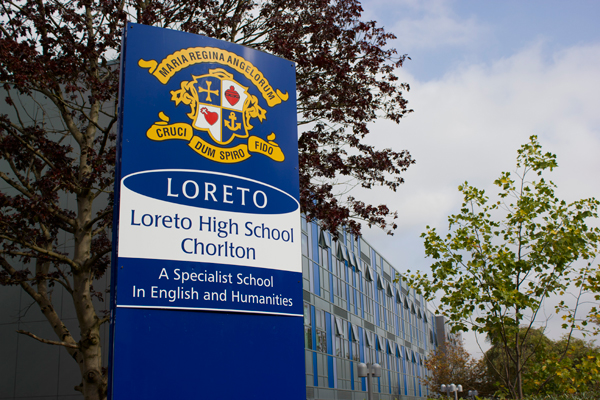 About Loreto High School
Loreto High School, Chorlton is a successful 11 – 16 Catholic co-educational, comprehensive high school located in South Manchester. The school serves 750 students and is supported by 150 full-time staff. As part of the 400-year-old Loreto organisation, the school strives to stretch hearts as well as minds.
Thinking back, Sarah Campbell, Head of ICT at Loreto High School recalls how frustrating it was managing the growing number of teaching and learning resources being used across the school.
"Students and staff accessed each resource individually and each one required its own sign on. I don't know how much teaching and learning time was lost due to students not being able to find the apps they needed and resetting forgotten passwords," says Sarah.
At the same time, the school was operating a networked email system, which meant communication was limited to school hours. Sarah adds: "The only way students and staff could access resources and files outside of the classroom was by transferring them onto USB sticks, which they found to be inflexible and extremely limiting. We desperately needed a more efficient way of working."
The school considered implementing a Virtual Learning Environment (VLE) but Sarah had concerns. "I had recently moved to Loreto from a school that had implemented a VLE. It was a complex system and the staff had struggled to get to grips with it. As a result, it wasn't being used. I didn't want to make that mistake."
Then she came across RM Unify.
"We needed something that supported learning and enabled quick and easy access to resources by students and staff, when and where they needed them. Once we had evaluated the different options, we felt that RM Unify offered us the most cost-effective solution. With all of the apps and services readily available in RM Unify, a virtual learning environment seemed like such an old-fashioned approach," explains Sarah.
Today, RM Unify is an integral part of teaching and learning at Loreto School. Sarah comments: "RM Unify ties everything together seamlessly and delivers exactly what we need through an easy-to-use interface. It is used by staff and students every day, both in school as well as at home."
With RM Unify, each person has access to the resources they need through their own unique Launch Pad. The LaunchPad uses a familiar tile layout, with each tile launching a different application or website. Students have access to educational applications and tools including Office 365, My Maths, Lingoscape and Doddle, while staff can access apps such as Vivo, Show My Homework and Blue Sky - an appraisal app that the school added to RM Unify themselves.
"The single-sign-on has transformed the classroom experience. There is less disruption during lessons, with more time spent on using the resources rather than accessing them."
Behind the scenes, the single-sign-on process is also saving the IT team significant time and resource. "The beauty of RM Unify is that it syncs to the school's Active Directory," says Sarah. "This means that teachers can reset passwords in the classroom and they are backed up onto the school network. Staff no longer need to call the Network Manager and disrupt his time."
"It [RM Unify] is a hundred times easier to implement than a VLE. It's all there for you and can be quickly customised to support the teaching and learning objectives of your school."
Most of all, Sarah finds that having RM Unify frees up her time to focus on moving the school's IT development plan forward. Over the coming year, she plans to help staff make more effective use of the apps and hopes to introduce Google Apps for Education.
---
Find out more about RM Unify.