It has always been the focus of Apple that the most effective use of iOS devices is in a one to one deployment where the device is a personal learning tool and as a consequence has the potential to transform the way that teachers deliver and learners learn. This one to one deployment gives students a device at their fingertips that can provide them with many ways of learning and ways to express their knowledge, via words, images, video, voice and music. Having such a solution in place requires not only funding but also technical support, planning and vision for management and workflow. No innovation is easily achieved without training and support for all users, devices may be intuitive to use but to be an effective user and utilise the full potential of the devices requires a well thought out plan and vision of how technology can benefit the education process.
In many schools iOS devices (iPad and iPod Touches) are used in a shared capacity and it has not been easy to use, what was intended as a personal device, in this mode. A series of new tools have been made available by Apple which will have a significant impact on how iPad can be used in the classroom.
The components involved are;
Apple School Manager
Managed Apple IDs
Shared iPad
The new Classroom App
These are discussed in detail in the recently updated Apple Educational Deployment Guide which is available via iTunes as an iBook or alternatively an online version is available here.
To read the blog exploring the features and recommended deployment of iOS 9.3 by Apple Certified Technical Coordinator, Stuart Sims, please take a look here.
Another useful guide for iOS 9.3 is the iOS Deployment Reference available here.
Apple School Manager
One of the key factors in managing iPad and access to iTunes U and iCloud resources has been access to an Apple ID; creating these has previously been time consuming and needed careful planning. When deploying apps to devices it's no longer essential to have created Apple ID's as this can be done to devices and not to the ID's, either by using Apple Configurator or a Mobile Device Manager (MDM).
iTunes U provides a solution to deliver content to students either from a fully structured course or ad-hoc during lessons; links, documents and files can be passed to students, assignments can be set and students can return completed work to be marked. A unique Apple ID is a key element to iTunes U success. In a one to one deployment this is an obvious way to work, when iPad devices are shared it's not so easy. Apple School Manager will facilitate the bulk creation of Managed Apple ID's by the school, imported from an MIS system. The passwords can be specified and even simplified to be a 4 digit passcode ensuring it's easy for any student. This will transform the way students can access courses and will give students access to iCloud; which provides online versions of Pages, Numbers and Keynote where users will have a backup of their files.
Apple School Manager will also provide:
Ability to reset Apple ID passwords centrally
The ability to manage MDM enrolment for devices
The ability to buy and distribute apps and books
Create Staff users with different roles
The ability to build and deliver courses
Essentially for school it will provide one portal for all the administrative tasks of managing Apple ID's, content apps, courses and enrolling new devices.
Classroom App
This is a teacher only app, there are no student iPad requirements other than they be supervised. It uses a combination of Bluetooth and Wi-Fi to communicate between teacher and student devices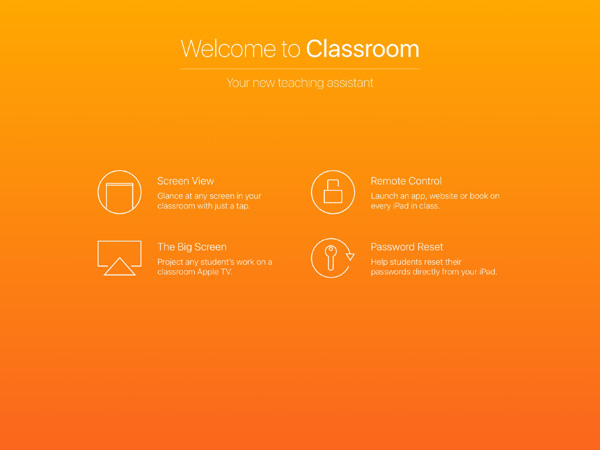 Features:
Lock and Unlock iPad screens
Can reset Apple ID passwords in the classroom
Navigate iPad devices to a web page or a chapter in a book
Open an app on all devices with just one tap
View any individual device's screen remotely or see an overview of all student screens at once
Initiate an AirPlay session between a single student device and an Apple TV/AirPlay system.
How many times have forgotten passwords caused so much delay and frustration? With Classroom it is so easy to reset them.
The ability to share a students work on their iPad by AirPlay is excellent and it overcomes so many of the frustrations that teachers have experienced setting and changing Apple TV pass codes.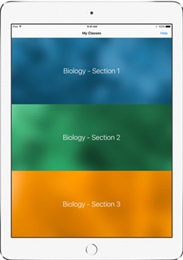 The Classroom App will pick up all the information from the MDM Education Configuration, which can include classes and iPads in the classes. This means you only see iPads that are in your class and not all the iPads in the school.
When the classroom app is open the controls are at the top and groups are below.
.

The controls work on all the iPads in the currently selected group
There is also a nice feature to create sub groups (e.g. Boys or Girls). You also see students grouped by which app they are using, although this is limited to two of these dynamic groups. And these groups can be used to Lock, Navigate or Open items to certain students.
For the classroom teacher this is an excellent set of tools to manage devices in the classroom. The simple Lock and Unlock feature is extremely useful for gaining students attention. However, care needs to be taken to make sure a set of shared iPad is unlocked before the end of lesson.
For some time it's been possible to open an app on a number of devices via Apple Configurator or an MDM. The problem is that in the classroom Apple configurator has to connect to the iPad and network managers are often reluctant to provide teachers with MDM access. It has generally meant locking an iPad to one app for an entire lesson but with Classroom it's easy for a teacher to select an app and launch it on any number of iPad devices. When this is invoked there is an option to lock the student into the app. Teachers need to ensure that the app they are launching is on their and the students iPad, which may be an issue if you are working with iPads that are configured for different subjects with different sets of apps.
How often have we asked students to navigate to a URL only for them to type it incorrectly? Classroom covers this excellently and is extremely quick in practice. The ability of navigate all students to a chapter of a book, for reading or study, is a great feature. It is worth noting that it is necessary for the book to be on the student's iPad.
Note: Teachers iPads don't need to be supervised to run Classroom however student iPads do need to be; this is a security feature so that you can't look at any iPad. This may cause issues in BYOD implementations where it's unlikely that student iPads will be supervised.
Monitoring students is a great feature and on the Classroom App you can see thumbnails of each student in the group; giving you visibility of what app they are using or what webpage they are on. Tapping on the thumbnail opens up the screen to full size and the student is made aware they are being monitored as the AirPlay blue status bar appears across the top of their device.
Note: If students turn off Bluetooth, from the device Control Panel, then they can hide themselves from Classroom.
Shared iPad
The final part of this set of tools is Shared iPad. Unlike the features I've described so far this is only going to be available on iPad Air 2, iPad Mini 4 and iPad Pro models with at least 32GB, as the technology required to deliver these features is high.
My hands on experience of logging on as different users was extremely positive and the speed of logon and log off was fast. The individual student data was also still available on the device after logging off and back on. The use of a cache server ensured that there was only a minimum wait for students to be able to access their personal files, essential in reducing classroom management time and expectation.
User's images or their initials will be seen on the lock screen of the iPad and tapping on that device will prompt them to enter their password or Passcode (depending on how their Apple ID has been set up). In practice, switching between users is very smooth and quick. Student data for apps is stored on the device and backed up to their iCloud Drive. If students logon to another device data will be downloaded from to that device from iCloud or from the caching server. However, the Classroom app indicates to the teacher who was using which device in the last lesson so that they can be allocated the same device as their data will still be on it.
With a high dependence on iCloud it's vital that the school internet connection is of a suitable speed to cope with the increased demands that may be made on it. Apple and RM Education are strongly recommending that schools considering Shared iPad models invest in an OSX Server which can be run on any Mac computer (e.g. a Mac Mini). This will locally cache student's data before passing it to iCloud, providing quicker access to their files.
Implementing any of these powerful and enabling features requires careful and well thought out planning with a clear vision of how each of the elements will be managed and used to ensure the maximum benefit. RM can provide support for you with your Apple Devices and software.