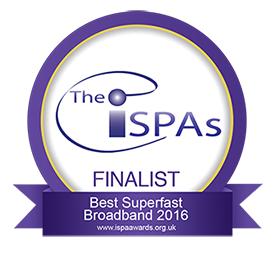 It's true.
The Internet continues to shape how we communicate, interact, as well as the way we teach and learn. The quality and service of an internet connection that a school, home or business receives is primarily down to the Internet Service Provider (ISP) that they choose.
Once again the UK Internet Service Providers Association (ISPA) has announced the official finalists for their forthcoming 18th annual 2016 Internet industry awards, which sees RM Education being short-listed for the 'Best Business Customer Service' and 'Best Superfast Broadband'.
The Internet Service Providers' Association (ISPA) is the UK's Trade Association for providers of Internet services of which RM is a member. Each year ISPA invites Internet and hosting providers to enter a variety of award categories ranging from Best Business Broadband to Best Marketing Campaign.
RM Education has always been a customer led organisation and we were very pleased that our ethos of putting the customer first has been recognised by ISPA.
Our short-listing for the 'Best Superfast Broadband' justifies all the effort that we put in to optimise the speed and quality of service that we provide to our customers.
We try to explain to our customers that the speed and in turn quality of their service depends on the ISP they choose. RM runs an uncongested network specifically designed to deliver this quality of service, safely and securely. Good access to the internet allows schools optimise their use of the internet for teaching and learning.
No other national providers of broadband were short-listed nor any of RM's competitors in the Education market. Whatever the outcome RM will continually work at delivering the best service to our customers across the Education market and in the words of our Head of Connectivity Alistair Goulden; "Remember, not all broadband connections are equal, some are more equal than others!"
To find out more about RM Broadband or view some of our case studies, visit www.rm.com/broadband