Founded in 1961, The Streetly Academy is a large co-educational secondary school in Streetly, West Midlands. In December 2012 it was ranked 'Outstanding' by Ofsted. The Academy uses over 1,000 Chromebooks (one per pupil from years 9-13) and is one of the leading users of Google Apps for Education in the UK.
Technology to improve learning
The educational vision of the school's Head Teacher, Billy Downie, is to create an environment where every pupil can achieve personal excellence. Like other forward-thinking educational institutions, the Academy strongly believes that technology should improve students' learning. It had previously invested heavily in cloud-based educational systems. However, by September 2015 it was becoming apparent that the school could no longer effectively manage these solutions.
Lack of student engagement
The Academy had a range of school systems including Frog, Sleuth, Google Apps for Education, Go 4 Schools, SISRA, ClickView and RM Books. This infrastructure had grown organically over a period of time, which meant that the school's administrators had to use up to 20 different passwords to access these systems.
To make matters worse, students were starting to switch off. Whenever a student forgot their password they would have to approach an administrator to retrieve their details. The process became tiresome and some students stopped logging into applications completely. Put simply, the school was not getting a proper return on its previous technological investments.
The Academy already had an existing relationship with RM Education so it decided to use RM Unify to resolve this situation. To prepare for installation of RM Unify the ICT team had to make some network changes to the school's directory synch-through. They also re-directed their home pages to RM Unify; inserted web short cuts across all its sites; added a single sign-on feature to its Chromebooks; and created an extension for Chrome browsers.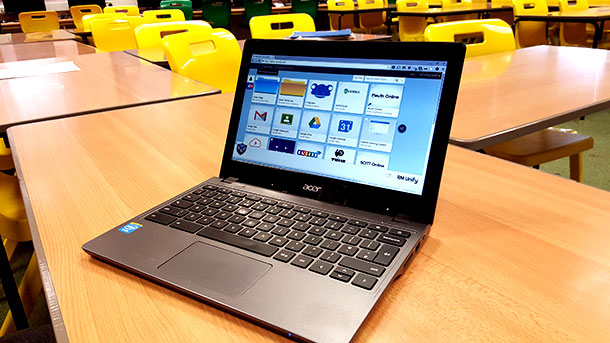 Immediate uptake
The implementation went without a hitch – RM Unify integrated seamlessly into the school's IT infrastructure from day one. As a result, the Academy's ICT team didn't need to send out any communications surrounding the new solution.
I don't think our students even know that they're going through RM Unify. As far as they are concerned they go into their Chromebook, go online and a load of icons appear on their screen. They then select what they are going to do for the day.
The new platform has also improved availability. Because RM Unify is cloud based, the Academy can carry out internal administration without having to worry about any knock-on effect on systems. Nor does it need to be concerned about problems caused by outages and other unforeseen circumstances.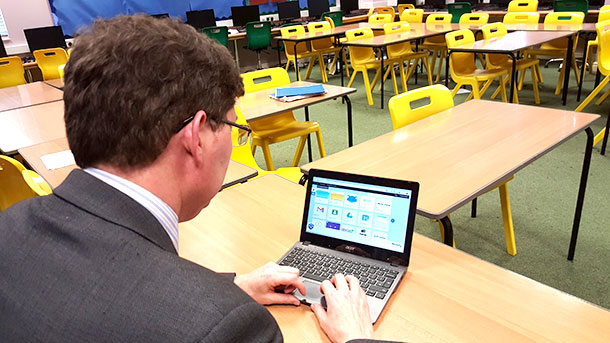 Ease of access for teachers
The new platform has also benefited teaching staff. Prior to the introduction of the solution, the teachers had to remember numerous passwords. Now they can simply log-in to all of the systems through RM Unify.
RM Unify has benefited the school enormously. Teachers and students can now sign-on to our web-based systems easily. Our administrators no longer need to waste their time re-setting students' passwords. And we now have the capacity to use a whole variety of web tools within a single system.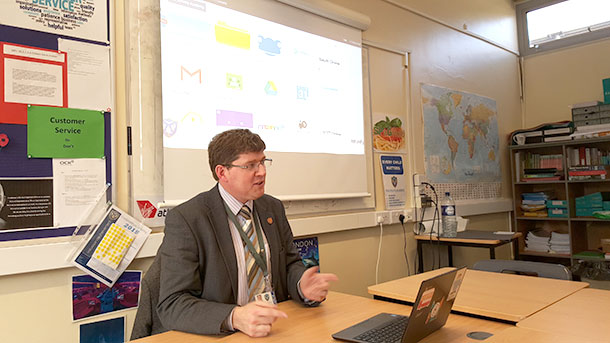 Better value for money
RM Unify has also helped the Academy save time and money. Administrators no longer waste time re-setting passwords and can focus their energy on value-added activities.
Now that the school's systems are more readily available, usage has also rocketed, which allows the Academy to get a far greater return on its technological investment.
Greater parental access
Going forward, the school intends to roll out RM Unify to parents so they can get more actively involved in their children's education. It is also thinking of acquiring IT security and support from RM.
RM Unify allows us to use a whole range of tools. It means we aren't tightly bound to one system. If we discover something great, we now have the capacity to get it out to our teachers and students really quickly. We would recommend that other schools – particularly ones that have invested in e-learning tools – use RM Unify.
Now find out more about how RM Unify could improve the use of your school systems and drive greater return on your technological investments.