Thank you for joining me on my second blog entry where I will be updating all of you on my second month working in the marketing services department at RM Education. To be fair when I say my 'second month' I was on holiday in Greece for 2 weeks of that – so it hasn't been too strenuous! There goes half of my holiday allowance already used up… oh dear. However I might add that my colleagues have been 'working' in our overseas subsidiary in India which apparently included riding elephants and tasting the local delicacies such as the Kingfisher beer.
Nonetheless, whilst I have been in the office I have been quite busy attending the internal education initiative known as the summer festival of learning. It has been extremely useful going to these sessions to broaden my understanding of the products and services that RM offers. Admittedly, I am not the most technical minded individual especially for my generation but the sessions enabled me to understand some of the key current trends of technology affecting education. There was also free pizza at one of the events which was an added bonus!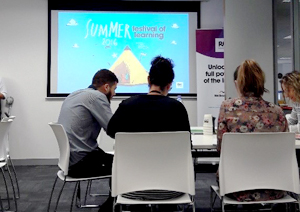 During one of the weeks we had a young work experience student join us to get more experience in events and marketing. Francesca attends a local school that RM provides services to. I actually attended one afternoon not long ago for a networking event to give advice on schools, universities and placements. So it has been fun having a subordinate around to be in charge of! Having said that she did take the front seat when we went out for lunch in the car one day which put me back in my place…
Another highly beneficial exercise that I have engaged in has been a team building exercise facilitated by our HR department. I discovered that my strongest colours are earth green – indicating a caring and encouraging persona, and sunshine yellow – signifying sociable and enthusiastic. The report also highlights a few weaknesses and areas to work on which I won't dwell on but overall I am slightly baffled how accurate it is from filling in a 20 min survey! It was very enlightening to get together with the team and share our attributes to work out how we can all work in a cohesive and effective way.
That's all for now, stay tuned for the next update and have a good month!