Greetings one and all,
It has been another busy period as I am now fast approaching four months into the twelve (1/3 has already gone??).
Highlights include:
A trip to our Cheadle office - This is where the majority of our creative team are based and produce all of their fantastic designs. It was nice to get a flavour for the Northern culture which I am not too familiar with but quickly warming to. I met a really nice guy named Mike Labrow who is one of our designers (he is as good as he sounds on the tin) who enlightened me to his unique philosophy on life which provides the majority of his creative inspiration.
Floorwalking - In addition to this encounter, I also ventured into East London to assist the IT team for the start of a new academic year at Langdon Academy. Accommodating nearly 2,000 students from primary to year 11. It is the biggest school I have ever visited, coming from a comprehensive nearly half the size. As you might be able to imagine, this made covering that huge expanse of classrooms and hallways rather demanding in terms of mileage on the feet. Luckily I was accompanied by our very own Events Technician Nick Micilica. We linked up to make an unstoppable force that solved many IT related issues before they even arose, which mostly centred around the interactivity of the interactive whiteboard. Many RM employees have participated in the floor walking experience at some point in their careers and it seems to me that it's the marmite of all jobs at RM you either love it or hate it. Speaking on my own behalf - I had a great time meeting people I might otherwise not in my line of work and additionally gained invaluable insight into how the services we offer are put into practice.
Readathon - I also got to plan, coordinate and run my first RM Event hosted nearby at Milton Manor House for the third annual children's Readathon. Despite its deceptively small size and straightforwardness, the planning that went into the event itself was an arduous task but equally as rewarding. Did I forget to mention that I had to dress up as the cat in the hat? It was quite an experience and one I did not expect nor will I forget, for better or for worse. I had a fantastic team with me who helped all of the children design their own top hats (to keep in line with the theme) and it is estimated that around 150 were created. I have been overwhelmed with green eggs and ham jokes in the office ever since – memories fade but pictures unfortunately do not: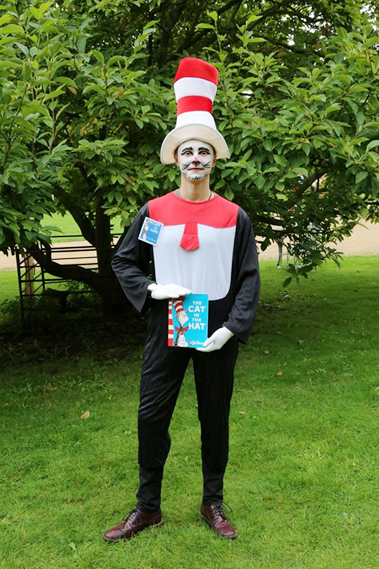 Well, that's all for now – stay tuned for the next instalment. On a separate note, I am actually occasionally in the office although it might not seem like it from my blog posts!