In July of 2016 the UK became one of many countries to witness the release of a game called Pokémon Go through fee 'app', available to all. Many of us will be aware of the original Pokémon game created by a franchise led by Nintendo and designed as a game for their 'Game boy' consul back in 1995. A generation of young people then grew up with the cards, videos and toys the game spawned. In simple terms humans, acting as 'trainers' would catch the mythical Pokémon characters and teach them to fight each other in the game, utilising their different skills.
Now in 2016 the game has been updated by a company called Niantic to incorporate today's technology in particular the ubiquitous mobile phone. Players can now hunt Pokémon characters via their GPS location system on their mobile device. Once located the Pokémon appears as an augmented reality 1 character against the background of the phones camera which opens and activates. The character if not caught before is then listed to the players Pokémon 'deck' which lists the abilities and points of the character for future fights in Pokémon gyms. During the game players seek Pokéstops in order to keep up their resources such as pokeballs to help them keep catching the characters. Pokéstops are often located on places of interest such as monuments and libraries, but can also be based on commercial buildings and even schools. The final stop is the Pokémon gym where players take their phones and characters to fight others in the virtual gym to establish dominance and rule the gym until further defeated. Described in this way it can sound boring but the game is entertaining and for the collectors amongst us pretty addictive.
Who are the target audience? Although the original thought may be children, it is actually quite common to watch groups of 20 somethings standing around monuments or landmarks swiping a phone screen. In my experience the groups I have witnessed most partaking in this phenomenon have been 20+yrs old. Why? They grew up with Pokémon and already have the knowledge of how the game works and what the characters are. This has been a hugely clever way of re-engaging a generation of users by utilising what they do best, technology. Whether the younger generation has taken this up en masse is yet to be seen.
Now that Pokémon Go frenzy has started to slow and the original fear furore has died down, what are the pros and cons of the game? Older adults often complain that the younger generation 'get no exercise and don't go out, just sit staring at screens all of the time'. I have never witnessed a game that gets players off the couch and out walking as this has. Admittedly they still stare at a screen whilst walking (one of the threats is inattention to the surroundings) but one out of two is a start. It has also made many more aware of their local area and what buildings and points of interest it may contain. Hatching Pokémon 'eggs' also means walking different distances like 2, 5 or 10k to incubate them. If we can't insist walking is good for you at least we can point to the fact you can hatch your eggs!
So what will be the issues for schools this new school year? One obvious one will be the students desire to keep playing the game whether in the classroom or in the playground. The access to Pokémon will be fairly restricted in an immediate school area like a playground but players can increase their chance of catching more by using their incense or lure resources. Both when applied attract the characters but both have a limited time (lures are 30 minutes, incense 20). The biggest problem that may be faced by schools is having Pokéstops or gyms attached to the building. The knowledge that either exist can be very tempting to the addicted.
There are ways as a school that you can ask Niantic to remove a gym or Pokéstop. The system has been made simple. You need to fill out a form here. If the form does not load just search Niantic how to remove pokéstops on Google.
The form asks for some simple detail and only requires your email address (school email address would be good) and the reason you are asking for the removal. At present I would be confident that Niantic would consider a place of learning to be that and not a game environment. Certainly within the Primary age groups. Secondary age may be more clouded in areas where schools allow usage of mobile phones during breaks. Each school will have its own ethos and ideas around the use of technology. For me the questions would arise around whether students began to attempt to use mobile phones outside of the permitted times and areas. Then maybe there could be cause for requesting removal.
There is no doubt that Niantic have created an engaging and different game. Who knows whether the Pokémon Go revolution will last or what the next game will be? Trying to understand the issues will always be the challenge professional's face. The game has not produced huge safeguarding threats at present but only time will tell. At present Police reports relating to the games use across the UK have centred on assaults, robberies and thefts involving players and those that have chosen to target them
The Professionals Online Safety Helpline at the UK Safer Internet Centre are always there to help answer any queries and are used to building great working relationships with online companies. Should Pokémon Go become a problem for schools there may be ways like Geo fencing (the app not working in recognised school locations) that could be negotiated. In the meantime I have no intention of falling behind before I speak to children in the new term about the issues. Only level 11 but climbing.
1 https://en.wikipedia.org/wiki/Augmented_reality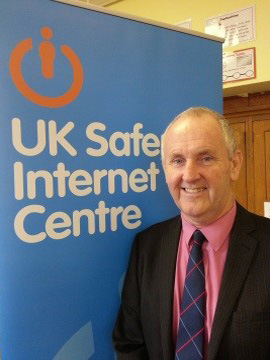 Alan is a police officer currently on secondment to SWGfL from the Avon and Somerset Constabulary's Internet Child Abuse Team. Alan's secondment is looking at strengthening the collaboration between the law enforcement agencies and Local Authorities across the UK for the safeguarding of children in online environments. He is a member of the CEOP Education Advisory Board and was Children's Champion of the Year in 2007.
Working with police, education, health, fostering and adoption agencies and other public and private agencies Alan has developed his knowledge and presentations to promote a wide and balanced view of online safety and protection in both the adult and child worlds.
His unique position has led to Alan presenting at conferences as far afield as Singapore, Africa and parts of Europe. Alan has a wealth of policing experience, in the latter years concentrating on intelligence work, his previous role concentrated on dangerous and paedophile offenders. Much of his current role involves working in schools with staff and children and training police.officers to help them offer real and practical advice on the current issues and challenges the Internet offers along with the real positives.
Email Alan at alan.earl@swgfl.org.uk