The Department for Education's guidance, 'Cloud computing: how schools can move services to the Cloud', helps schools to understand the educational, financial and technical opportunities and benefits of moving their ICT to cloud services.
Alongside, Google and Microsoft, RM Education are one of only three cloud suppliers referenced within the guidance as a being a source of further information and advice for schools considering such a move.
If a school is willing to look at changing the way they approach technology, then there are huge benefits to be realised.
"Migrating to cloud services and systems can result in significant savings and an enhanced teaching experience. As well as better outcomes for pupils"
DfE, Cloud computing: how schools can move services to the Cloud
Cloud services and applications can reduce infrastructure and IT costs, increase accessibility, enable collaboration, and give schools greater flexibility to allow teachers and students to transform the way they work and use technology.
To make the most of cloud computing RM recommend that a school has a number of essential prerequisites in place.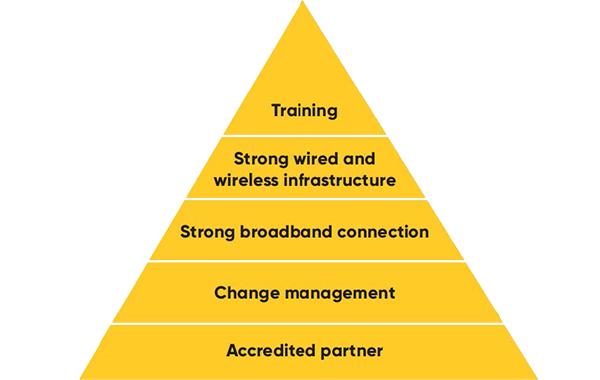 In a series of articles, we will explore each prerequisite in more detail.
Further reading