RM Unify v3.26, was released yesterday.
Most of the development work for RM Unify v3.26 release has been focussed on Network provisioning for CC4 networks. This is a major extension to RM Unify's provisioning capabilities and is in trial with early pilot sites.
Network provisioning from your school Management Information System (MIS) via RM Unify will be available to all RM Unify Premium customers in the autumn. This will be supported from all of our currently supported MISs (RM Integris, Capita SIMS, WCBS, Progresso, ScholarPack, iSAMS, Facility CMIS and Bromcom).
You can already provision accounts from your school MIS into RM Unify and onwards into apps such as O365 and G Suite. Network provisioning will extend this to also provision accounts into your local active directory.
Whilst network provisioning is not yet generally available, all customers will now see the improved user audit log. This has been developed to provide more information about user provisioning and other actions on RM Unify users, for example, password resets.
The new user audit log looks like this: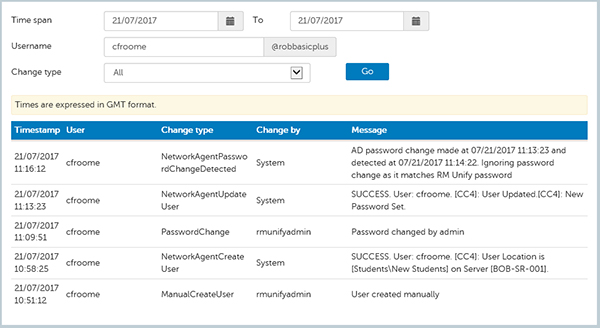 RM Unify v3.26 also includes:
Changes to the flow of some of the RM Unify Management Console pages for setting up MIS synchronisation following feedback from customers and our support teams.
Changes to our information to help customers setting up Desktop Single Sign-on using the Edge browser.
Support for RM Unify schools who share a single Active Directory so that users can keep their RM Unify account when they transfer between these schools.
Bug fixes for linked accounts in RM Unify so that accounts will behave as expected when one of the linked accounts is deleted.
Minor bug fixes for Glow establishment transfer functionality for the key end of school year period.
If you have any questions about these changes, please drop us a line at rmunify@rm.com
Further information
We release updates to RM Unify roughly every 4-6 weeks.