Online safety consultancy & training

Supporting you in developing online safety skills
Helping staff, pupils, parents and governors feel more confident in today's online environment
Protect, educate, empower
Online technology in education is evolving at a rapid rate, with cloud based apps, social media and great educational online resources all becoming commonplace in today's classroom. Technology is continually changing but one thing that remains certain is a school's duty of care to safeguard their staff and pupils online. SLT teams are now expected to deal with and be knowledgeable in a whole range of complex issues related to online safety.
Over the last few years there has been a heavy focus on e-safety in education across educational establishments, school inspectorate, and leading industry bodies such as the Home Office and The Safer Internet Centre. In fact, Ofsted has recently highlighted that staff training and development is one of the weakest aspects of a school's online safety provision. This covered the consistency, frequency and quality of training.
According to the latest Ofsted survey:
Over 25% of secondary students cannot recall if they have been taught about online safety over the last 12 months

Just over a quarter of secondary students have less confidence in their teacher's knowledge of online safety issues

Training can be inconsistent, and what senior leaders might see as training may not be reflected by staff

The data follows on from Ofsted's landmark 'The Safe Use of New Technologies' report published in 2010. The survey data was presented by David Brown HMI at the Child Internet Safety Summit 2015 in London.
All online safety training and consultancy can be tailored to your individual requirements; we don't have a rigid structure to our sessions simply because we know that every establishment is different. Below you'll see the training and consultancy that we offer for each of the different audiences, the breakdown of what will be delivered is just an example of a typical session. Do call us to discuss your particular needs and requirements.
I've worked with RM before and I trust what they do, so when we decided to bring in external training, RM were my first port of call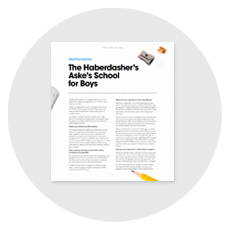 The Haberdasher's Aske's School for Boys
Haberdasher's Aske's recently engaged with RM Education to develop their online safety policy and to provide staff and parent workshops on online safety. Ian Phillips, Assistant Head and Director of ICT talks about his experience of working with Kat Howard, Senior Education Consultant at RM Education and the positive impact it's had on the staff, students and parents.
Request more information and a personalised quote
back to top button