RM Tutor
Enabling teachers to
take control of the ICT
in their classroom
With the use of technology in the classroom constantly increasing, schools need to be able to find a way to allow their students to embrace these new technologies, whilst not allowing it to become a distraction.
RM Tutor is a powerful classroom management tool for Community Connect 4 that enables teachers to take control of the IT in their classroom. It's been developed to support Ofsted best practice and ensures that your staff are using IT in the most effective and efficient way.
RM Tutor allows teachers to monitor, demonstrate on, and control all student devices simultaneously, survey all screens to check activity, or suspend, lock and even mute all machines to maintain class attention and keep learners on task.
The latest version of RM Tutor allows teachers to connect to not only desktop PCs but also Chromebooks and Android devices, meaning that teachers have even more flexibility when it comes to classroom management. Teachers can connect to students devices by room, device name, student login name or simply browse the network to locate students and monitor all student activity in real time - visually and audibly using intuitive thumbnails of each student's device. RM Tutor runs on Windows 10 and supports the latest Edge and Chrome browsers.
Teachers love using RM Tutor because they can keep an eye on what every student is doing at that time
Why it works for you
Monitor student progress
Question and Answer Module delivers a simple and compelling set of tools to encourage active assessment of learning in the classroom. It enables teachers to reinforce key learning points and instantly gauge student understanding during a lesson.
Provide a digital record and summary of learning objectives
The student journal delivers a complete record of all activity within a lesson, aids homework and revision, provides a valuable resource for students who have missed a lesson and gives teachers a full record of activity.
Keep students on track
Should you notice whilst browsing through your student machines that somebody is looking at inappropriate content or not on task, it is very easy to disable internet access for that lesson or for a given period of time should you wish.
Increased flexibility
The RM Assistant app is an extension to the traditional desktop Tutor application, delivering greater mobility for teachers around the classroom and the ideal tool to allow teaching assistants to help with monitoring student progress.
Provide students with a safe learning environment
Teachers can monitor all websites in use in the class, including those in the background, open and close websites remotely, and record a full history of use for the lesson for every student. RM Tutor's internet 'SafeSearch' feature overrides search engine preferences automatically and forces content restrictions on delivered results.
Ensure lessons start and finish promptly
Everyone wants the lesson to start promptly, and finish promptly too. So, to get down to work fast, use RM Tutor to start up all the student computers centrally (or just the ones you want) and log off all your students at the end of the lesson, or shut down the computers centrally so you don't have to.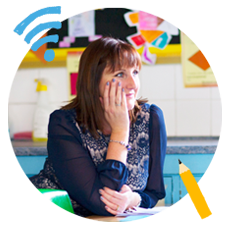 12 ways RM Tutor can help teachers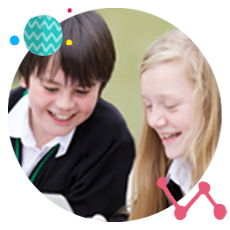 How RM Tutor supports Ofsted best practice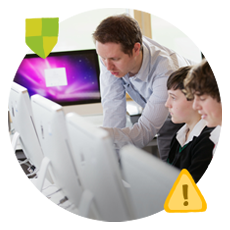 Safe access to a world of learning
back to top button