We're offering schools a free of charge email migration service and upgrade to user-based filtering
Upgrade your email platform and filtering features
in one simple step
With technology in schools evolving at such a rapid rate it's important that we equip you with the tools to keep up with this change. So, we've got two exciting updates to tell you about.
After nearly 17 years of service we have decided that it's time to move away from the RM Easymail service and offer our customers the chance to move to a more enterprise-standard solution.
Brand new user-based filtering upgrade to RM SafetyNet allowing you to meet the new DfE statutory guidelines around filtering and monitoring.
We've made it easy for you to upgrade both systems at the same time with no hassle. You'll have one dedicated project co-coordinator, one delivery timescale which means less for you to worry about.
Tell me more about these upgrades
RM Easymail
RM launched RM Easymail in 1998 as one of the first email platforms designed specifically for schools. Since then it has developed several times in order to meet the evolving needs of education. However now, with more enterprise-standard email solutions available to schools, the time is right to offer RM Easymail customers the chance to move.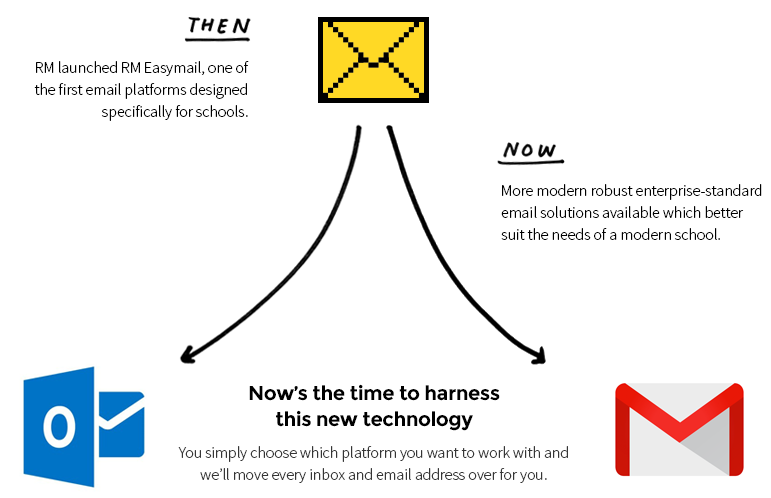 Your school will be able to decide between Office 365 and Google Apps for Education, giving each user access to email, calendars, online storage for their files and a range of productivity apps, so you'll get much more than just email! In addition, we're providing each user in a school with their own 'Launch Pad' for easy access to a wide range of other online educational resources, using single sign-on, so they only have one username and password to remember.
New email, calendars, storage and collaboration tools
After your upgrade, you'll be able to provide staff and students with an email account, a place to store and share documents online, as well as messaging and video conferencing tools to improve collaboration. Staff and students will be able to enjoy a consistent experience from any computer, tablet or phone.
If you'd like to learn more about both of the email platforms, please follow the links to Office 365 or Google Apps for Education.
How do you make your choice?
In advance of your school's upgrade, we will be in touch to ask you to confirm your upgrade and provide us with your preferences, including whether you prefer to move to Office 365 or Google Apps for Education. All of the key information for your upgrade will be captured at this point.
Very happy with service, communication was excellent, I work Part-Time and the coordinator took that into account when corresponding via email and telephone. Will be happy to tell people about how good RM are.
RM SafetyNet
As an RM SafetyNet customer you'll have the opportunity to upgrade both your filtering solution and email platform at the same time.
The new version of RM SafetyNet with user-based filtering has all the functionality required to help you meet new DfE guidance on age appropriate filtering and monitoring.
The 2016 'Keeping Children Safe in Education' statutory guidance from the DfE recommends:
Governing bodies and proprietors should ensure appropriate filters and appropriate monitoring systems are in place. Children should not be able to access harmful or inappropriate material from the school or colleges IT system.
Governing bodies and proprietors should be confident that systems are in place that will identify children accessing or trying to access harmful and inappropriate content online.
Whilst it is essential that governing bodies and proprietors ensure that appropriate filters and monitoring systems are in place; they should be careful that "over blocking" does not lead to unreasonable restrictions as to what children can be taught with regards to online teaching and safeguarding.
Schools and colleges must ensure that children are safe from terrorist and extremist material when accessing the internet in schools.
RM SafetyNet with user-based filtering will ensure your school community meets all of the recommendations as we will be releasing full online activity reports over the summer, allowing you to review exactly what your users have been doing online at any given time. Upgrade both your systems at the same time with no hassle. Find out more about , visit RM SafetyNet
The upgrade process
We will be managing the upgrade project by phasing the roll out to our customers. RM will assign your upgrade time-slot to you once you place your order for the upgrade. Letters will be sent out to all customers in advance of your upgrade. From start to finish we expect your migration to take between one and three months depending on circumstances. The Project team will keep you updated regularly throughout.
For more information please download our FAQs or to get started contact us on 0800 046 9802
A school-friendly Launch Pad to access your services, and automated account management
RM Unify makes is simpler to manage and access online applications, including Office 365 and Google Apps for Education. Staff and students have one username and password for RM Unify, and they use RM Unify's single sign-on technology to access multiple online resources without the need to login again. RM Unify takes care of all of the management of user accounts too. Using our AD Sync tool, you can automatically sync online accounts with your school Active Directory (network) logins. For more information, visit www.rm.com/rmunify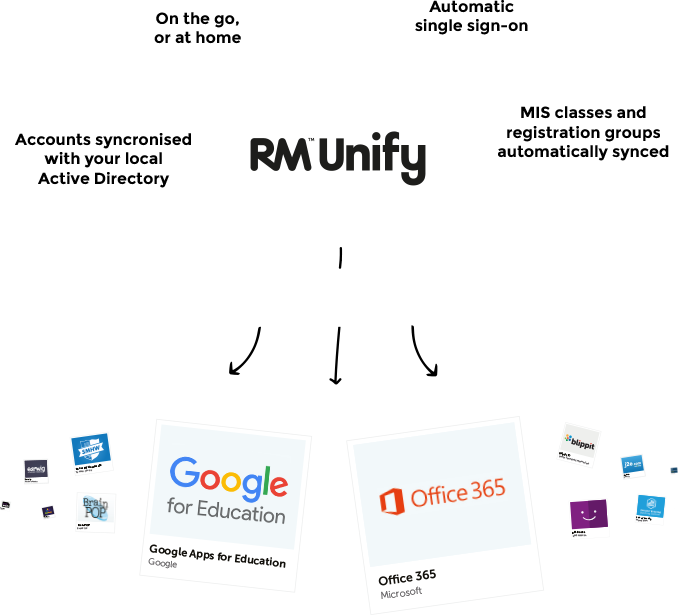 For more information please download our FAQs or to get started contact us on 0800 046 9802
How much will this cost?
RM Easymail
As an existing Easymail customer, you receive preferential pricing for the Cloud email service: £245 per annum. The normal price is £495 per annum.
RM SafetyNet
As an existing SafetyNet customer, the price of SafetyNet UBF to your school is £250 for the year commencing 1st September 2016. The normal price is £450 per annum.
You have the option of taking out a 3 year contract for both services, to maintain the above special pricing.
Alternatives to taking these services
Both services are optional: you can choose to take neither, either, or both.
If you do not take our Cloud email service, then you may need to find a replacement for your Easymail service.
If you do not take RM SafetyNet with user filtering then you should procure another filtering service to meet the revised DfE statutory guidelines.
More questions?
We appreciate there's a lot of information to take in, and you probably have a few questions.
Download our frequently asked questions
If you have any additional questions about the migration, or about Office 365, Google Apps and RM Unify, then please get in touch using the following details:
Phone: 0800 046 9802
Email: rmunify@rm.com
back to top button