Improve back-office efficiency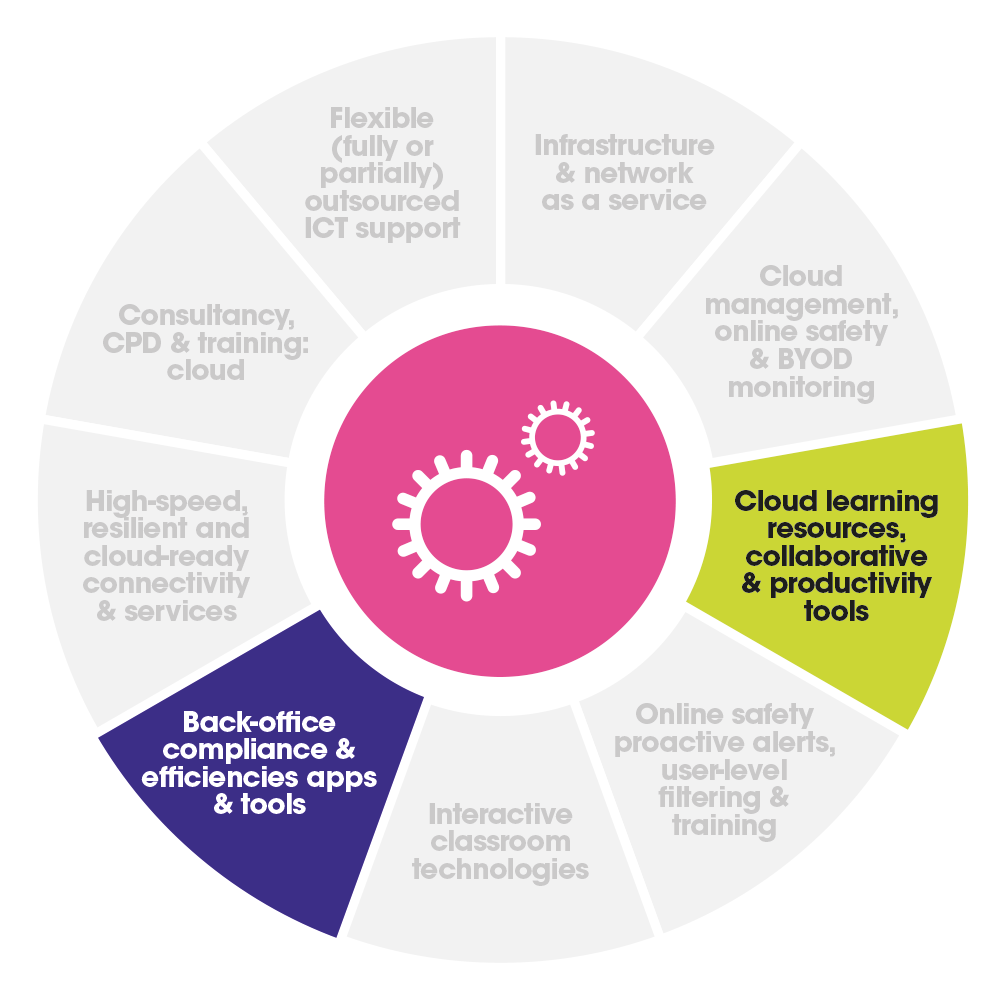 Business Process Reengineering:
give staff the gift of time
The advent of cloud collaboration and productivity tools to improve teaching and students' learning experience also offer an ideal opportunity to streamline your back-office business processes. Office365 or Google Apps for Education collaborative tools mean the days of emailing each other 24 different versions of work-in-progress documents are no more; cloud forms and single-purpose applications can streamline communication and feedback with parents; shorten and improve meetings and decision-making by circulating then all contributing to agendas the week prior to the meeting; Governor meeting minutes or teaching observation notes can be captured and circulated there and then. We can help you give your teachers and administrators the gift of time.
Create time for staff with Office 365
Create time for staff with Google Apps for Education
Dramatically reduce your whole-school operating costs by up to 10%
In addition to the ICT-related cost savings, we can also work with schools needing to dramatically reduce their operating cost base through rigorous business process reengineering. For example, a school recently saved 10% of their total expenditure by using Google Apps for Education to dramatically streamline non-teaching processes to enable many no-replacement savings in non-teaching roles. We are one of only four Google Premier Partners and a Microsoft Platinum Partner - we have the expertise to help you.
Reduce operating costs with Google Apps for Education
To find out more about how RM Education can help independent schools to improve your back office efficiency, please call us free on 0808 172 9524 or email independents@rm.com
School technology
fit for the future
Don't be held back by your school IT infrastructure.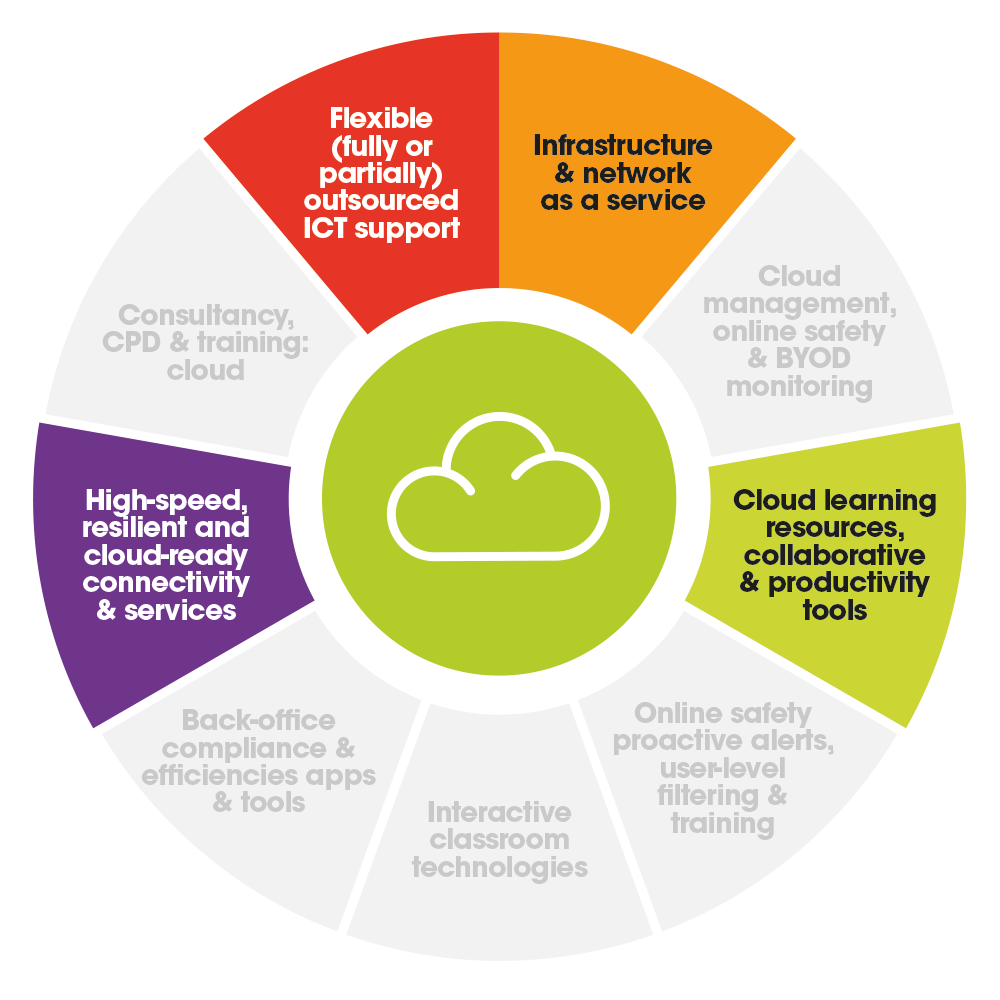 Fast, safe and resilient internet connection
Cloud learning resources, storage and collaborative tools that save you money and improve teaching and learning mean you're increasingly dependent on your broadband connection.

As the largest school ISP in the UK, we can help you with a fast, reliable connection, that includes intrusion and distributed denial of service protection, user-level filtering and UK school dedicated support phone lines. Direct peering relationships with Microsoft, Google, Apple and the BBC makes your cloud services run faster. And we'll make sure you should have a fail-over line of a different technology in case your main line goes down for any reason.

Switching connection could save you £10k a year and improve your service.
Fast, safe, resilient and cost effective broadband
Sort out your infrastructure
Many schools find they've inherited old, outdated infrastructure. A fast, resilient broadband connection is a start, but you also want fast internet to where it's needed for teaching and learning across your campus and boarding houses, and to provide a good experience for guests, visiting Governors, parents and prospective parents.

We can provide everything you need to sort out your infrastructure and make the total solution work together: cabling, networking, mobile device management, filtering and monitoring, managed wireless and guest networks. Available as individual items, or rent a set of improvements over a few years to make a step improvement affordable now.
To find out more about how RM Education can help independent schools to design an ICT strategy that's fit for the future please call us free on 0808 172 9524 or email independents@rm.com
Leading-edge
student experience
A world-class learning experience using tomorrow's cloud learning resources, collaboration tools and IT-confident teachers.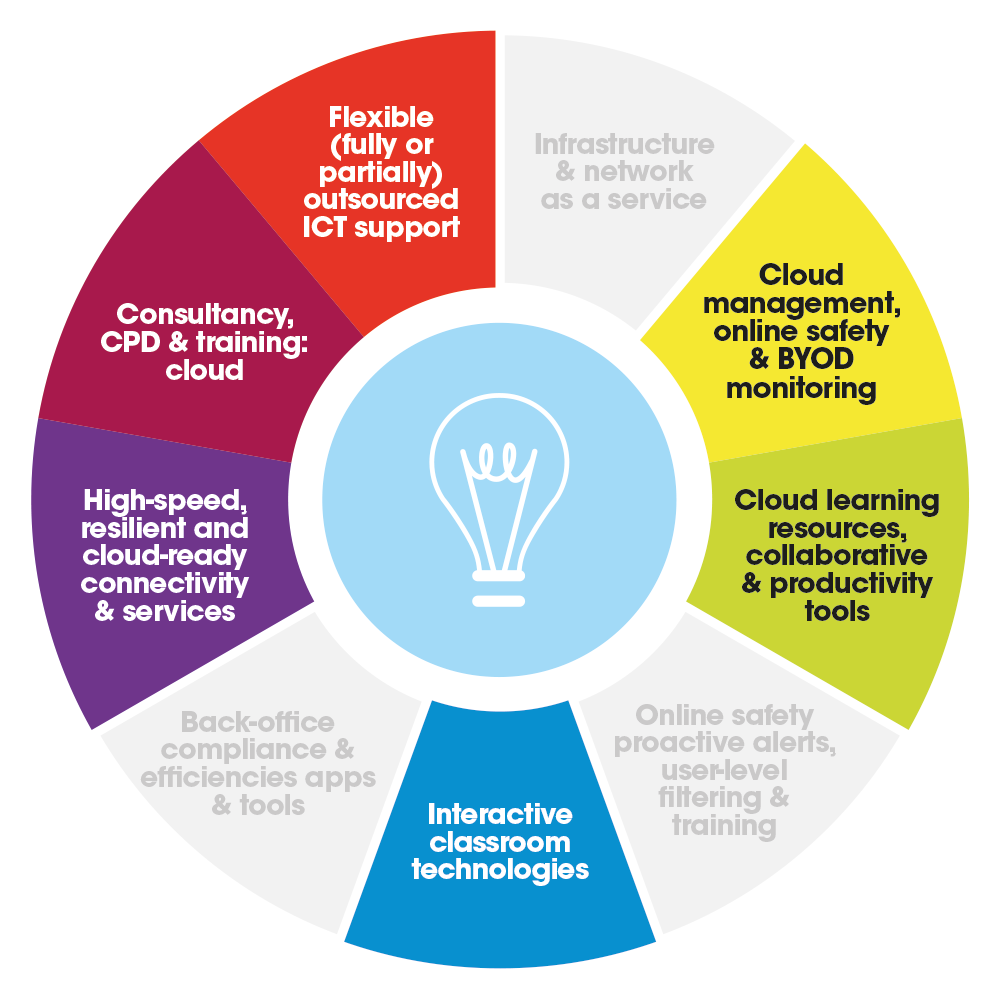 Actionable Consultancy:
Make your ICT vision a reality
Baseline where your IT and your staff are at today with our free-of-charge audits. Achieve full SLT buy-in for your future aiming point via our facilitated SLT workshops. Break-down the gap between your vision and today's reality into manageable workstreams of activity, run on a time-scale and budget to suit you. We'll work with you to create an exciting future vision for ICT in your school. Crucially, we'll ensure you create a workable plan to get there. We can then help you implement your plan so you see a result.
Our approach to helping you create an ICT plan
Achieving a result with your ICT
Request your baseline ICT audit and staff survey

Cloud learning resources
and collaboration tools
As well as saving you money, cloud collaboration tools such as Google Apps for Education or Office365 can help you revolutionise your prep and classroom teaching practice and your students' experience of learning at your school. We can help you harness the power of cloud learning resources while also making it manageable and easy to use. At the heart of that is our identity management system, RM Unify. It takes users, registration and teaching groups from your MIS (including iSAMs and WCBS) and creates accounts in everything else: Office365/Google, Firefly, Britannica, The Day, many RM and 3rd party cloud learning resources, even your school network AD / Azure AD accounts.
RM Unify Identity Management System

Teacher CPD
For your investment in ICT to make a difference to teaching and learning, your teachers need to know how to teach confidently with it. Our approach to staff CPD establishes teachers' ICT skills and their pedagogical application of those skills to their teaching practice. All schools have a range of starting points for staff ICT skills and their application, so our differentiated approach works with groups of teachers to provide targeted professional development led by our experienced educationalists, that will support your ICT strategy.
Targeted teacher training to make sure your ICT investment is used well

Interactive classrooms
We have extensive experience of all sorts of interactive classroom and novel uses of space, furniture and technology, based on working with architects and builders for around half of all Building Schools for the Future new and refurbished schools. Overlaying that with the latest AV, 3D printing, augmented reality, cloud learning resources and collaboration tools, we're your ideal IT partner for your building and refit plans. We can help you avoid expensive mistakes and build on best practice.
To find out more about how RM Education can help independent schools to deliver lessons that inspire students and their parents, please call us free on 0808 172 9524 or email independents@rm.com
Reputation management
Protect your valuable reputation, don't let online be your blind-spot.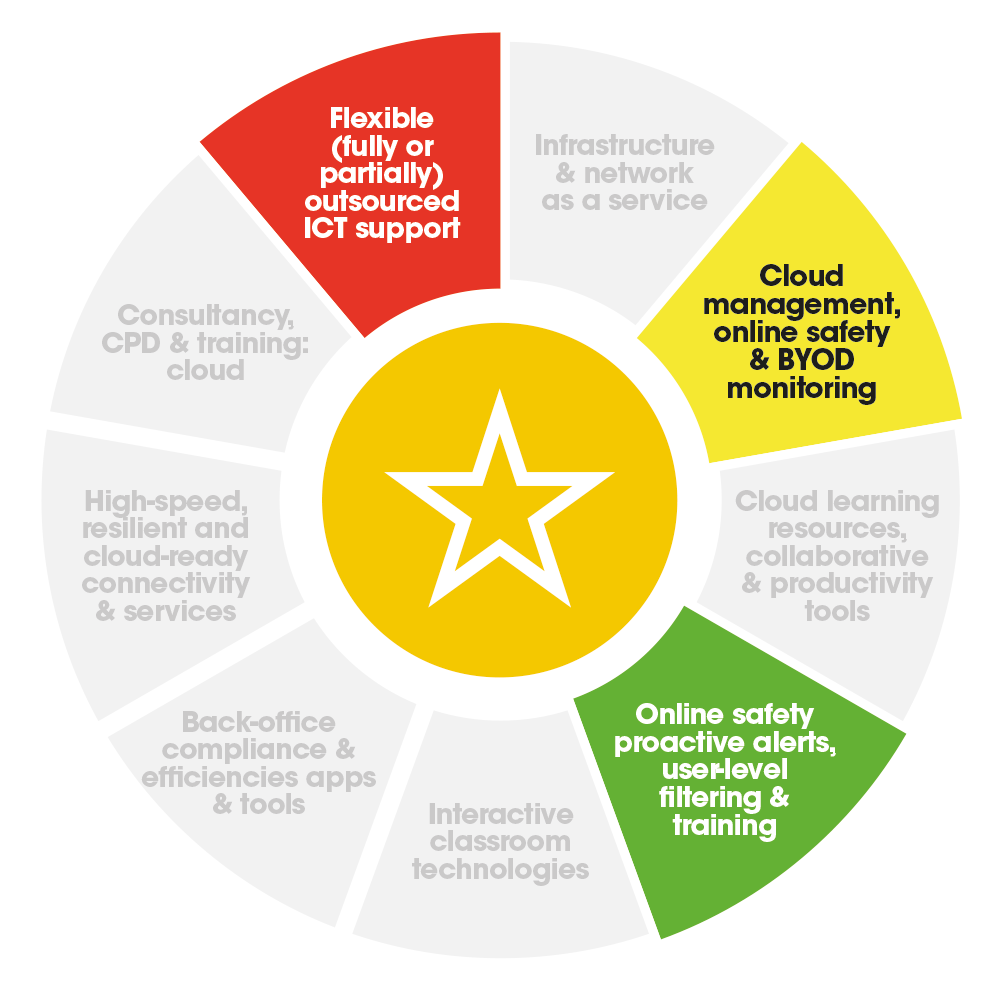 Keeping children safe online is essential but not straightforward to achieve. Make sure you're up-to-speed on statutory requirements, guidance and best practice. Harness the power of the latest technology tools in this fast-changing arena to keep your students safe, reassure your parents and protect your school's valuable reputation.
ISC Advice re Independent Inquiry into Child Sexual Abuse
(previously known as The Goddard Review)
The ISC guidance (Jan-2016) recommends all ISC independent schools review their current safeguarding procedures. Our experienced team of online safety experts can help you audit and improve on the online safety element of your safeguarding procedures. Not only will that help ensure you are offering the highest possible standard of safeguarding for your children, it will also reassure your current and prospective parents that your school is a safe place for their children.
Ensure you're considering the full breadth of issues, and review your online safety procedures with our help

Online safety healthcheck
It's easy to think you've got online safety covered but as you start to put in place proper measures and ways of monitoring, you often find that is not the case. Looking at your school's requirements and plans, we can advise you on how to enable pupils and staff to take full advantage of today's online technology, safely.
You can start that yourself by completing our free-of-charge online safety questionnaire
We offer extensive consultancy covering online safety advice, policy development and training for staff, students and parents. Parent training sessions are particularly popular and well-attended - for example, termly parent sessions at The Haberdashers' Aske's Boys' School often have over 200 parents attend.
"I would recommend RM, Kat was really valuable. She has built the foundations for us to be self-sufficient."
Ian Phillips, Assistant Head and Director of ICT,
The Haberdashers' Aske's Boys' School

Social media monitoring
Easily monitor all online content including social media sites for any mentions of your staff or school, with email alerts and an online dashboard. Having visibility of what students and the media are saying about your school helps to minimise negative PR.
Proactive monitoring & alerting
It's now possible to mine activity on your school network in a wide range of languages (including Mandarin and Russian) using sophisticated algorithms that look for risk cues for radicalisation, self-harm, suicide, drugs rings, grooming, etc. Potential issues are reviewed by ex-police and ex-child protection officers and you are called. Protect your students and your school.
eSafe online safety forensic monitoring and alerting
"eSafe has proved invaluable in helping us detect boys with pastoral issues, so we can put appropriate plans in place earlier than we might have otherwise"
Dr Peter Bieneman - Director of Boarding, Harrow School


Appropriate, age-based filtering
Revised Keeping Children Safe in Education (KCSiE) statutory guidance came into effect on the 5th September 2016. Schools now need to ensure appropriate filters and monitoring systems are in place and pupils should not be able to access harmful or inappropriate material from the school IT system. With ICT playing such an integral role in education, it's critical that "overblocking" does not lead to unreasonable restrictions as to what children can be taught.
It's vital that you have a filtering solution which is flexible enough to support safe online learning whilst also protecting against sites which could be unsuitable or disruptive.
For example, our cloud-based Internet filtering software RM Buzz, provides both in-school and take-home filtering for any students using a 1:1 device. Your filtering, their device. This makes it straightforward to protect your students, wherever they go.
Consistent learning experience
Trusted management of your ICT by RM Flex means that you face fewer ICT or security/data issues. Based on our shared experience of IT support for over 4000 UK schools, we find and fix issues before they become a problem in the classroom and affect your ICT reputation with students, teachers or parents.
"RM's team of specialists are a fantastic and creative resource who are now actively helping us to bring our ICT plans to life in the classroom and enhance the experience of teachers and pupils."
Rachel Frier, Bursar, The Marist Schools
Protect your reputation, please book a consultation by calling us free on 0808 172 9524 or emailing independents@rm.com
Significant cost savings
Save significant money on your ICT spend and improve ICT's impact on teaching and learning.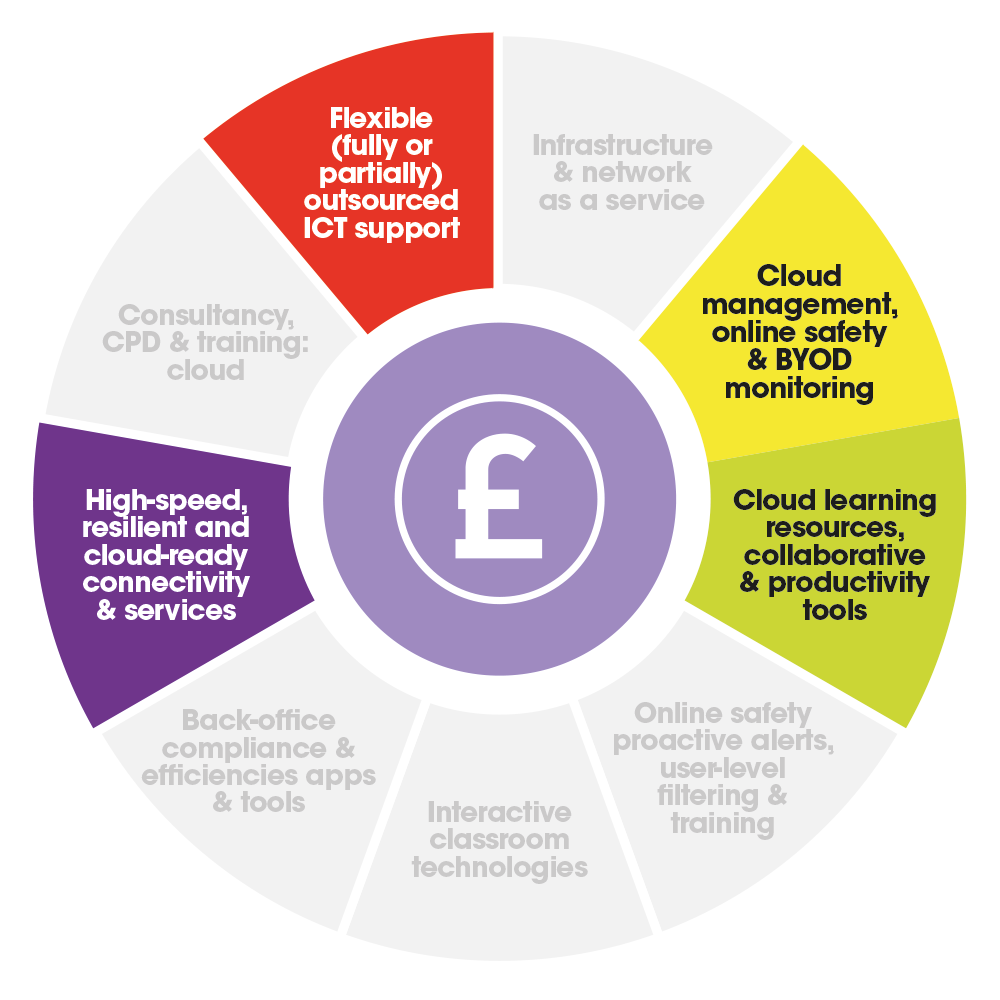 Flexible co-sourced ICT support
Senior schools running an ICT support team of seven and spending over £300k on fully loaded salary costs can see that reduce to two on-site staff supported by RM Flex, and make a saving of over £150k each year.
"With our RM Flex support service we benefit from an improved support provision compared to our previous in-house team."
Rachel Frier, Bursar, The Marist Schools

Harness students' own technology
Your students already own the device they need, so don't buy another. Once your learning resources are in the cloud, supporting BYOD multiple device platforms is much more straightforward. Whether you go for a 1:1 approach or a full BYOD scheme, it's important to make sure you take sensible precautions to keep students safe. Even after investing in better MDM, filtering and monitoring solutions, many schools can save over £100k a year via BYOD.
Move to the cloud
Cloud storage for student work is now free. Microsoft Office 365 and Google docs provide cloud email, office and productivity tools that save money. Most of your school's servers can now be migrated to run in the cloud on a pay-as-you-go basis. Exciting cloud learning resources, Google Classroom collaboration tools cost less that running local software and help improve students' learning experience. Moving to the cloud should save you of the order of £100k per year in your ICT costs.
Best value broadband
Our partnerships with all the major telecoms providers in the UK enables us to offer schools the best possible solution at the best possible price. What's more, all of our connections include absolutely everything that you require for a service suitable for education. There are no hidden costs. Switching connection could save you £10k a year.
Fast, safe, resilient and cost effective broadband
See how much you could save, please book a consultation by
calling us free on 0808 172 9524 or emailing independents@rm.com
Nine component ingredients
Whether that's saving a senior school c£250k on your annual ICT spend, providing you technology to filter and proactively monitor your students' use of the Internet in a range of languages to protect your reputation, making your ICT infrastructure just work, creating a leading-edge student experience using cloud learning technologies to encourage both collaborative and independent learning, or reducing your admin; we can help you.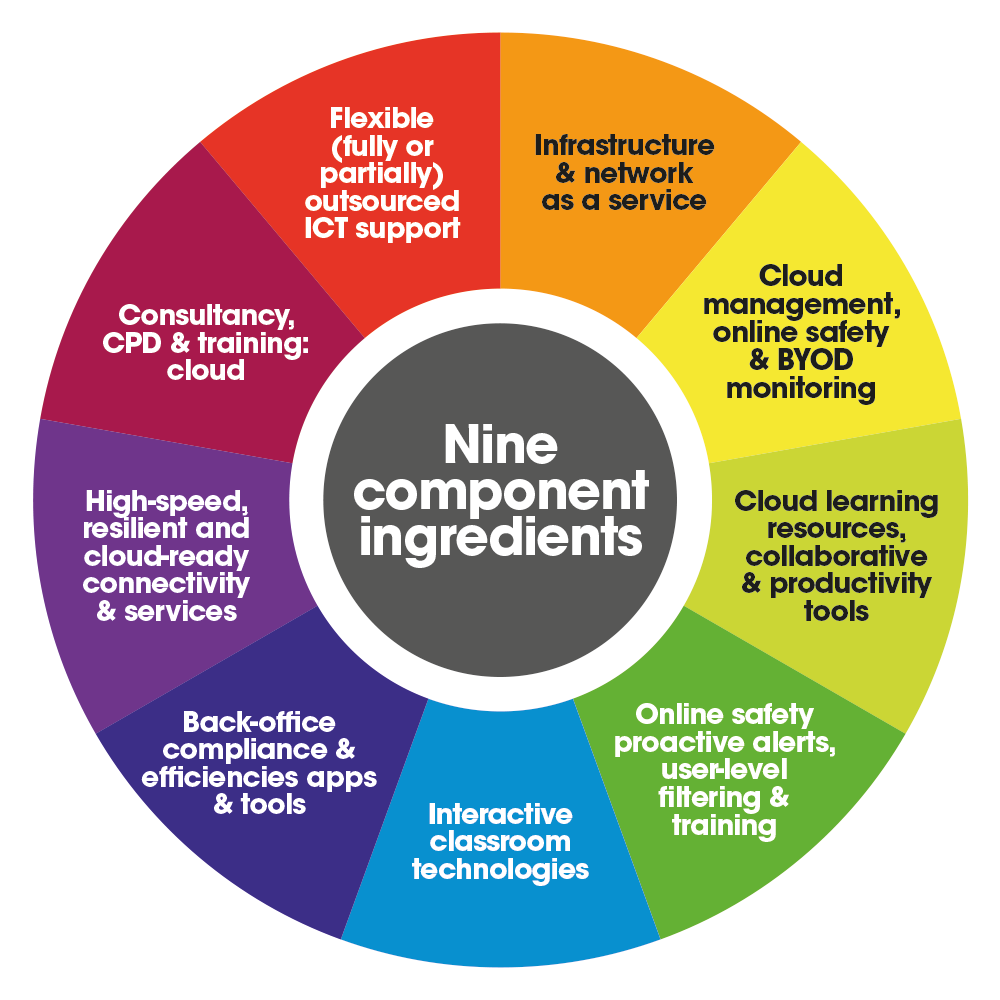 RM's free but comprehensive initial ICT audit provided us with a detailed and readily understandable review of the status of ICT in school and their consultancy has energised us to investigate alternative technologies and teaching approaches, whilst considering how to get the best value and longevity out of our current ICT.
Independent schools
Focused on the unique needs of your independent school
You have a series of unique challenges and needs, whether that's making significant cost savings to control fee affordability in the face of teacher pension and NI increases, keeping enrolment full by differentiating your offer over your competitors proactively managing your reputation, or keeping up to date with new and emerging technologies.
Face your challenges head-on with an IT partner that you can trust to deliver your vision with minimal disruption.
Over the last few months we've visited many of the leading heads and bursars to listen to your priorities. We've  put together a bespoke offering that will help you addresses five of your key priorities, drawn from the very wide range of what RM does.
Book an initial appointment with our independent school specialists
by calling us free on 0808 172 9524 or emailing independents@rm.com
Book an initial appointment with our independent school specialists
by calling us free on 0808 172 9524 or emailing independents@rm.com
back to top button